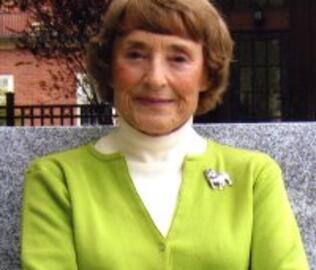 90 Outstanding Yale Nurses Recipient
Class of 1948
A dedicated member of the Yale University community, Ruth Landau Benedict, MN, has been a highly visible representative of YSN since the inception of the Association of Yale Alumni (AYA) in 1969, when she was the only alumna on the Founding Board of Governors. She served in numerous roles during AYA's formative years, as well as on the Executive Committee of the Yale Alumni Fund (YAF) and as the first woman on the 24-member Board of Directors. Additionally, Ruth served as first chair of the Nominating Committee and the Accreditation and Election Committee of the Founding Board.
Ruth went on to hold a number of key leadership positions on the AYA Board, including chairing the Committee on the Graduate and Professional Schools, which dramatically increased their visibility at the University.
Ruth also served as national chairman for YSN's part of The Campaign for Yale in 1977, leading YSN to meet its goal ahead of all the other schools. In 1979, during the first energy crisis, with Yale's energy costs going off the charts, President Bart Giamatti asked Ruth to be Yale's first Director of Energy Conservation. She mobilized students, faculty, and staff; saved over $4 million in electricity that year alone; and was awarded a $13 million federal grant for retrofitting Yale's buildings.
In 1974, Ruth was recognized for her outstanding commitment and volunteer efforts on behalf of the University with the Yale Medal, Yale's highest honor. That same year, she was recipient of YSN's Distinguished Alumna Award. In 2005, Ruth was inducted into the YSN Hall of Fame, and she also served as an inaugural co-chair of the YSN External Advisory Board.