Apply to YSN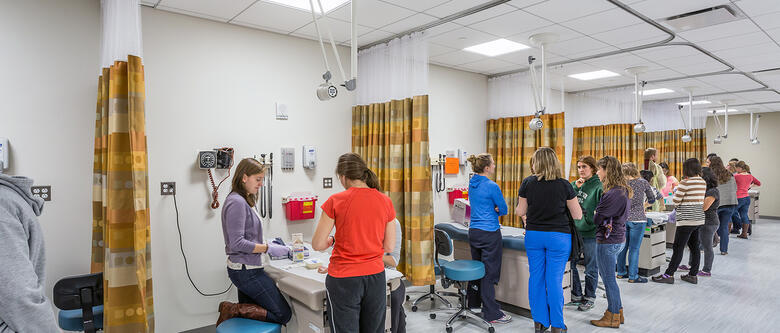 Thank you for your interest in graduate study at the Yale School of Nursing.  We are no longer accepting applications for Fall 2023 enrollment in on-campus programs.
The application for Summer 2023 admission to our new Online MSN in Nursing Psychiatric Mental Health is available now and the deadline is February 28th, 2023.  
How to Apply 
All YSN applicants must submit and complete an online application and pay a non-refundable application fee of $100.  In addition to the online application, the following elements of a complete application are required: 
Current resume/CV
Three letters of recommendation submitted electronically through the application system
Unofficial copies of transcripts for any postsecondary institutions attended and/or WES evaluation of coursework taken outside the US or Canada
English language proficiency exam results (TOEFL or IELTS) for all applicants whose native language is not English and who did not receive the equivalent of a US bachelor's degree at an institution where English is the primary language of instruction.
An integrated and comprehensive essay and 2 short answer essays (prompts to essay questions and short answer essays are available in the application portal)
GRE exam results if applicable (see below for further information)
Application Deadlines 
YSN only enrolls new students for the fall term.  Please note that the online application and all required supporting materials should be received on or before the deadline specified below.  Applications will not be reviewed until all required materials are received.
Program
Fall 2023 Application Deadline
All Midwifery & Women's Health programs
1-Nov
Graduate Entry Prespecialty in Nursing (GEPN) 
28-Nov
On-Campus Master of Science in Nursing (MSN)
28-Nov
Online MS in Nursing (MSN-PMHNP)

28-Feb (2023)
Post-Master's Certificates (PMC)
28-Nov
Doctor of Nursing Practice (DNP)

Early Decision: November 1 
Regular Decision: April 22
GRE & GPA Requirements for Master's Programs
In order to be eligible to apply to any YSN master's level program, applicants must either have (1) a cumulative undergraduate GPA of at least 3.0 in their bachelor's degree, or (2) a valid GRE examination result with a score at the 50th percentile or higher in all sections.
An applicant is not required to submit a GRE exam result if the cumulative GPA from their conferred primary bachelor's degree was 3.0 or higher. 
If you are required to submit a GRE result, please order the test result to be sent using YSN's GRE code of 3998.  If required to submit a GRE result, the official test results must be received by the application deadline for your application to be considered complete.  GRE results are not valid if older than five years, and must be sent directly from ETS to YSN using code 3998.  As it can take time for the results to be transmitted, please arrange to take the exam far enough in advance to ensure that the results are received at YSN by the application deadline.
This requirement applies to master's level programs only. Applicants to Doctor of Nursing Practice (DNP) and Post-Master's Certificate (PMC) programs are not required to submit the GRE, regardless of undergraduate GPA.
Transcripts
Unofficial copies of transcripts should be uploaded to the online application portal. If admitted, candidates will be required to submit final, official transcripts electronically (parchment or eScrip) or mailed directly to YSN from the issuing academic institution(s) in sealed envelopes. Electronic transcripts should be sent to ysnadmissions@yale.edu.  Take care to ensure you send documents to the Yale School of Nursing, and not Yale University.
International transcripts from institutions outside of the US or Canada must be evaluated by a credentialing agency, such as Educational Credential Evaluators (ECE) or World Education Services (WES). This includes a course-by-course evaluation, as well as a certified English translation of all non-English transcripts (must be submitted before the application deadline).  An unofficial copy of a WES evaluation may be uploaded into your application for review, but if admitted you will be required to produce a valid, official evaluation.
In addition, graduates of foreign nursing schools must pass the Commission on Graduates of Foreign Nursing Schools (CGFNS) examination. See additional requirements for international applicants.
Print documents can be sent to YSN via the following addresses:
us postal service
 
courier service
Yale School of Nursing
Attn: Admissions
West Campus
Office #11501
P.O. Box 27399
West Haven, CT 06516-0972
 
Yale School of Nursing
Attn: Admissions
West Campus
Building 400
Office #11501
300 Heffernan Drive
West Haven, CT 06516 
 
Prerequisites
Graduate Entry Prespecialty in Nursing (GEPN)
Please note an important recent change to the GEPN prerequisite requirement: all four prerequisites must be completed no later than June 15th, but none of the courses must be completed by the application deadline.  
Four prerequisites are required for admission for all GEPN applicants. These courses must be completed before June 15th prior to matriculation into the school. A grade of B- (80) or better is required. Prerequisites must be taken at an accredited college or university including community college either in person or online within the last 8 years prior to application submission. AP credits are NOT acceptable to fulfill the following required courses. The four courses required are:
Human Anatomy and Physiology I and II with lab (4 credits/semester). May complete one semester of anatomy and one semester of physiology both with labs as separate courses.
General Chemistry with lab (4 credits)
Microbiology with lab (4 credits)