Sangchoon Jeon, PhD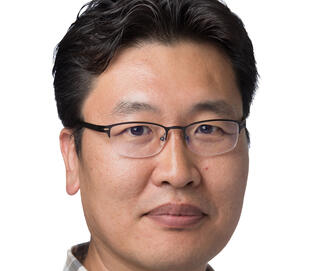 Research Scientist in Nursing
Yale School of Nursing - Room 20506
email: sangchoon.jeon@yale.edu
phone: 203-785-6280
fax: 203-737-4480
About
Dr. Sangchoon Jeon is a biostatistician who was trained in statistics (BS, MS) and epidemiology (PhD). His dissertation was evaluating cancer-related symptom changes using alternative survival analysis approaches with considering important statistical assumptions. He has served to provide statistical expertise for faculty and students at the Yale School of Nursing, has been engaged to develop analytical plan and conduct power analysis for grant proposal, and perform data analysis for multiple funded research projects. Primarily, Dr. Jeon has actively participated in evaluating cognitive behavioral interventions for adolescents with diabetes, sleep disturbance in heart failure patients, symptom management in cancer patients, and an exercise intervention for breast cancer survivors. Jeon is currently participating as biostatistician on the method core for the Yale Center for Sleep Disturbance in Acute and Chronic Illness.
He applied latent variable approaches to identify individuals who experienced clinically meaning improvement in tic severity and to evaluate mediation effects of daytime symptoms between sleep disorders and functional performance. Recently he has worked in identifying phenotypes of obstructive sleep apnea (OSA) using k-mean clustering with an application of dimensionality deduction techniques for large numbers of OSA related outcome variables.
Research Interests/Clinical Practice
Research Interests
Currently, Dr. Jeon has been interested in evaluating the discrepancy between polysomnography and wrist-actigraphy in sleep measure and developing statistical algorithm to improve accuracy of actigraphy on actual sleep/wake episodes.  
Selected Publications/Presentations
Publications
Schulman-Green, D., Jeon, S., McCorkle, R., Dixon, J. (In press). The Measurement of Transitions in Cancer Scale (MOT-CA). Journal of Nursing Measurement.
Reynolds, N.R., Satyanarayana, V., Duggal, M., & Jeon, S., Chandra, P.S. (2016). MAHILA: a protocol for evaluating a nurse-delivered mHealth intervention for women with HIV and psychosocial risk factors in India. BMC Health Service Research, 16, 352
Knauert, M., Jeon, S., Murphy, T.E., Yaggi, H.K., Pisani, M.A., Redeker, N.S. (2016). Comparing Average Levels and Peak Occurrence of Overnight Sound in the Medical Intensive Care Unit on A-weighted and C-weighted Decibel Scales. Journal of Critical Care, 36, 1-7.
Bai, M., Dixon, J., Williams, A., Jeon, S., Lazenby, M., McCorkle, R. (2016). Exploring the Individual Patterns of Spiritual Well-being in People Newly Diagnosed With Advanced Cancer: A Cluster Analysis. Quality of Life Research, 1-9.
Jeon, S., Redeker, N. (2016). Disturbance, Daytime Symptoms, and Functional Performance in Patients With Stable Heart Failure: A Mediation Analysis. Nursing Research, 65(4), 259-267.
Talwalkar, J.S., Fahs, D.B., Kayingo, G., Wong, R., Jeon, S., Honan, L. (2016). Readiness for inter- professional learning among healthcare professional students. International Journal of Medical Education, 7, 144-148.
Schulman-Green, D., Linsky, S., Jeon, S., Kapo, J., Blatt, L., & Chagper, A. (2016). Integrating palliative care into self-management of breast cancer: protocol for a pilot randomized controlled trial. Contemporary Clinical Trials, 48, 133-138.
Selim, B.J., Koo, B.B., Qin, L., Jeon, S., Won, C., Redeker, N.S., Lampert, R.J., Concato, J.P., Bravata, D.M., Ferguson, J., Strohl, K., Bennett, A., Zinchuk, A., Yaggi, H.K. (2016). The Association between Nocturnal Cardiac Arrhythmias and Sleep Disordered Breathing: The DREAM study. Journal of Clinical Sleep Medicine, 12(6), 829-837.
Scahill, L., Jeon, S., Boorin, S.G., McDougle, C.J., Aman, M.G., Dziura, J., McCracken, J.T., Caprio, S., Arnold, L.E., Nicol, G., Deng, Y., Challa, S.A., and Vitiello, B. (2016). Weight and metabolic consequences following 6 months exposure to risperidone in young children with autism spectrum disorder and serious behavioral problems. Journal of the American Academy of Child and Adolescent Psychiatry, 55(5), 415-423.
Hinchey, J., Goldberg, J., Linsky, S., Linsky, R., Jeon, S., Schulman-Green, D. (2016) Knowledge of cancer stage among women with non-metastatic breast cancer, Journal of Palliative Medicine, 19(3), 314-317.
Knobf, M.T., Jeon, S., Smith, B., Smith, B., Harris, L., Kerstetter, J., Thompson, A.S., Insogna, K. (2016). Effect of a randomized controlled exercise on bone outcomes: influence of adjuvant endocrine therapy. Breast Cancer Research and Treatment, 155(3), 491-500.
Sumpio, C., Knobf, M.T., Jeon, S. (2016) Treatment Complexity: A Descriptive of Chemotherapy Treatment and Supportive Care in Patients with Advanced-Stage Cancer Diagnoses, Supportive Care in Cancer, 24(1), 285-293.   
Presentations
Jeon, S., Redeker, N.S. (2016, June). Clustering sleep measures in heart failure patients: redundancy and discrepancy of measures among polysomnography, wrist-actigraphy, and sleep diary, abstract. SLEEP 2016, Denver, CO.
Jeon, S., Redeker, N.S. (2016 June). Discrepancy between sleep measures obtained with polysomno-graphy and wrist-actigraphy in stable heart failure patients, abstract. SLEEP 2016, Denver, CO.
Knechel, N., Redeker, N.S., Yaggi, K., Jeon, S., Womack, J., Marottoli, R. (2016, June). The relationships between sleep disturbance and falls among veterans who have experienced stroke, abstract. SLEEP 2016, Denver, CO.