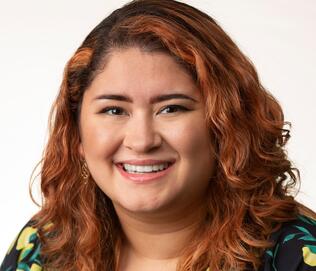 The Foster TALES Study
Starting in January 2023, Brianna is seeking young adults (ages 18 to 25) to participate in the Foster TALES Study (Transitioning to Adult Life after Emancipation from the foster care System). The purpose of this study is to better understand how aging out of foster care influences mental health and wellbeing during the transition to independence and young adulthood.  This is a paid research opportunity intended for former permanent/Crown wards who aged out of foster care in any Canadian province or territory. Participants will be asked to complete a self-paced online questionnaire and an optional one-to-one virtual interview. 
Want to share your story? If you or someone you know would like to learn more about the Foster TALES Study and how to get involved, please contact Brianna Jackson, the Principal Investigator, at brianna.jackson@yale.edu or (203) 535-7207.
Hometown/Country
Whitby, Ontario, Canada
Undergraduate Education 
BScN, University of Western Ontario
Graduate Education 
MScN, University of Western Ontario
Research Interests
Adolescent/emerging adult mental health and biobehavioral development; intersectionality, health inequities, and structural violence; resilience and post-traumatic growth; mixed-methods and community-engaged research approaches
Publications and Presentations 
Publications:
Jackson, B., & Sadler, L. (2022). Structural violence: An evolutionary concept analysis.  Journal of Advanced Nursing. https://doi.org/10.1111/jan.15341
Jackson, B., Booth, R., & Jackson, K. T. (2022). The good, the bad, and the vision: Exploring the mental health care experiences of transitional-aged youth using the photovoice method. Qualitative Health Research, 32(12), 1915-1931. https://doi.org/10.1177/10497323221121209
Jackson, B., Jackson, K. T., & Booth, R. (2022). "I fell through the cracks": Navigating the disjointed transition from paediatric to adult psychiatric services. Issues in Mental Health Nursing, 43(6), 507-515. https://doi.org/10.1080/01612840.2021.2009604
Mantler, T., Jackson, K. T., Walsh, E. J., Jackson, B., Baer, J. R., Davidson, C. A., Shillington, K. J., & Parkinson, S. (2022). Promoting Attachment Through Healing (PATH): Results of a retrospective feasibility study providing trauma‐and‐violence‐informed care to pregnant women.  Journal of Advanced Nursing, 78(2), 557-568. https://doi.org/10.1111/jan.15117
Jackson, B. (2021). A paradoxical problem: Expanding collective consciousness while preventing participant burden in research involving racialized communities. Public Health Nursing, 39(3), 517-518. http://dx.doi.org/10.1111/phn.12938
Jackson, B. (2021). Language matters: How 'behavioral health' perpetuates stigma and misinformation. Journal of the American Psychiatric Nurses Association, 27(3), 187-188. https://doi.org/10.1177/1078390321999785
Condon, E. M., Londono Tobon, A., Jackson, B., Holland, M. L., Slade, A., Mayes, L., & Sadler, L. S. (2021). Maternal experiences of racial discrimination, child indicators of toxic stress, and the Minding the Baby® early home visiting intervention. Nursing Research, 70(5S), S43-S52. http://dx.doi.org/10.1097/nnr.0000000000000529
Zhang, T., Shen, N., Booth, R., LaChance, J., Jackson, B., & Strudwick, G. (2021). Supporting the use of patient portals in mental health settings: A scoping review.  Informatics for Health and Social Care, 47(1), 62-79. http://dx.doi.org/10.1080/17538157.2021.1929998
Mantler, T., Jackson, K. T., Walsh, E. J., Tobah, S., Shillington, K., Jackson, B., & Soares, E. (2021). Sharing personal experiences of accessibility and knowledge of violence: A qualitative study.  Journal of Interpersonal Violence, 37(3-4), 1206-1222. https://doi.org/10.1177/0886260520920867
​Presentations: 
Through the Looking Glass: Photovoice as a Catalyst for Introspection and Empowerment Among Youth with Mental Health Challenges. (2022). Global Alliance for Behavioral Health and Social Justice (GABHSJ) Biennial Coming Together for Action Conference.
Supporting the Psychosocial Wellbeing of Adolescents Diagnosed with Post-Traumatic Stress Disorder: An Urgent Need for Trauma-Informed Self- and Family-Management Interventions. (2022). American Psychiatric Nurses Association (APNA) Annual Conference.
An Explanatory-Sequential Mixed Methods Study Examining the Experiences of Emerging Adults Who Have 'Aged Out' of Foster Care in Canada. (2022). Eastern Nursing Research Society (ENRS) 34th Annual Scientific Sessions.
Crossing the Chasm: A Review of Mental Health Care Services for Transitional-Aged Youth. (2022). Canadian Federation of Mental Health Nurses (CFMHN) Webinar Series. 
Trauma-Informed Risk Assessment: Toward Measurement Without Distress. (2022). International Society of Psychiatric-Mental Health Nurses (ISPN) Annual Conference.
Strategies for the Recruitment, Retention, and Engagement of Marginalized Youth in Mental Health Intervention Research. (2021). Sigma Theta Tau International (STTI) Nursing Honor Society Biennial Convention.
Defining Trauma-Informed Care: A Concept Analysis. (2021). Royal College of Nursing (RCN) Annual International Mental Health Nursing Research Conference.
Awards 
Doctoral Foreign Study Award, Canadian Institutes of Health Research (CIHR)
James Leitner Nursing Doctoral Scholarship, Yale University
Canada Graduate Scholarship, Canadian Institutes of Health Research (CIHR)
​Alexander Hotson Memorial Award for Highest Academic Achievement, University of Western Ontario
Master's Student Award of Excellence, Council of Ontario University Programs in Nursing (COUPN)
​Research in Mental Health Nursing Award, Registered Nurses' Foundation of Ontario 
Extracurricular Activities
McDougal Center for Graduate Student Life, Health & Wellness Fellow
Poorvu Center for Teaching & Learning, Graduate Writing Fellow
Yale Health Advisory Council, Graduate Student Representative
Title IX Advisory Board, Graduate Student Representative
Sigma Theta Tau International (STTI), Delta Mu Chapter Board Member
YSN PhD Program Committee, Student Representative