Naming Opportunities

Simulation Lab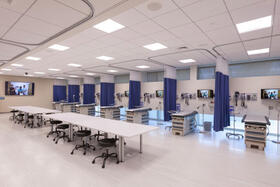 Housed in 10,000 square feet at the West Campus YSN building, the acute care and primary care simulation labs help approximately 400 students each year understand how to conduct clinical skills with high-fidelity manikins (human-like models that help students to simulate different types of medical procedures and situations). 
Simulation provides a safe environment where students can enhance their clinical capabilities. It allows them to make mistakes and practice decision-making skills. The faculty create 40 different, realistic scenarios that teach students the best practices in patient safety and quality of care while also mastering heart rhythms, lung sounds, birthing, psychological assessments, and other health issues. It is the heart of the Yale School of Nursing and the largest space dedicated to teaching.  
A gift of $5 million will name the Simulation Labs on the first floor and garden levels and help underwrite the future needs of our students and faculty. 
---
Hall of Deans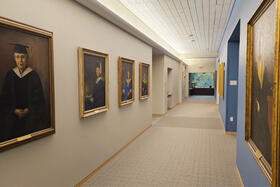 On the third floor of Yale School of Nursing is an impressive visual history of nursing at Yale through the portraits of ten deans who have dedicated their careers to nursing and midwifery on behalf of better health for all people. It includes the first female dean at Yale and a moving representation of nine other strong, visionary female leaders who have successfully led YSN over the last 100 years.  
A gift of $250,000 offers the opportunity to name this dedicated space and have a place among YSN's leadership. 
---
Learning Studio 
Education and learning have become more digital, allowing for innovative ways for both students and professors to interact, teach and learn. Equipment and space for this type of resource is essential and part of our plans for entering into our second century of being a leader in nursing and midwifery education. 
Yale School of Nursing wishes to invest in a state-of-the-art Learning Studio where online teaching can be perfected, students can be afforded the opportunity to experiment and learn in a digital world, and YSN faculty can conduct interviews for the public on important health issues.   
A gift of $500,000 will name the Learning Studio to help underwrite the equipment, space configuration and activities of this important teaching and learning space. 
---
Welcome Center and Student Study Space 
Offering a welcoming space for prospective and enrolled students is a priority to encourage a sense of belonging at Yale School of Nursing. YSN plans to invest in the reconfiguration of the first-floor entry to include admissions, a student welcome center and study space that will feel professional and embrace all of our nurses and midwives. 
A $1 million gift can honor a person who appreciates and endorses the concept of a strong educational community.
---