Giving

The Campaign for Yale School of Nursing: On Call for Humanity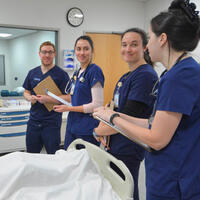 In fall 2021, Yale launched For Humanity, a fundraising campaign with a core mission to improve the world today and for future generations. The goal is to support knowledge that benefits humanity. Yale School of Nursing is proud to be part of this effort. Gifts to the school empower our students and faculty to tackle the world's most urgent health problems. 
The world needs Yale nurses and midwives. Our students come from across the globe and all walks of life to receive a world-class professional education. With expertise and innovative approaches to healthcare, Yale nurses and midwives are leaders and advocates for their patients and communities. Their reach extends beyond the clinic into public service, research, and leadership across sectors.
Yale nurses and midwives have been answering the call for a century—2023 marks the school's centennial. Our history is the history and evolution of modern nursing, and our second century will shape nursing's future.
We invite you to explore our giving opportunities and ways you can make a difference for Yale School of Nursing.
---
Funding Priorities
Double your giving power when you donate to an endowed fund at YSN through the Yale Challenge.
Scholarships
Reducing student debt is key to attracting the best to YSN and encouraging their aspirations. Donors can support students through annual giving and endowed funds. Click here to learn more about our scholarship opportunities.
Professorships
An endowed chair helps Yale School of Nursing recruit and retain faculty who are recognized intellectual leaders, who in turn inspire the best and brightest students.
Naming Opportunities
There are many opportunities to recognize endowed gifts, from our new Learning Studio to our state-of-the-art Simulation Laboratory to an investment to name our new Student Welcome Center. Click here to learn more about our naming opportunities.
Core Needs
Dean's Annual Fund and Annual Scholarship Funds: YSN relies on annual giving to fund financial aid, maintain need-blind admissions, support student life, and conduct a host of international teaching and research activities. It allows the dean to respond to unforeseen needs and opportunities. Click here to learn how you can make an impact through annual giving.
Planned Giving: Did you know that you can create a meaningful legacy through planned giving? With a planned giving option for everyone, you can reach your philanthropic goals while taking advantage of methods that offer financial and tax benefits. Click here for more information on planned giving, such as how to create a stream of income for retirement or provide for a loved one.
Gift Guide
For a comprehensive list of For Humanity funding opportunities at YSN, please click here to explore our Gift Guide.
$50 Million Challenge: Double Your Donating Power
"For a century, Yale School of Nursing has answered the call to create better health for all people. With this new opportunity to unlock unrestricted endowment for the school, you can expand the impact of your support. Together, this is our chance to answer the call for the future of nursing."
—Holly Powell Kennedy, Interim Dean and Helen Varney Professor of Midwifery
Help unlock $50 million for Yale School of Nursing. When you make an endowed gift to any area of YSN, the university will make an equal and unrestricted contribution to YSN's general endowment. Imagine what a combined $100 million from donors and the university can do for Yale nurses and midwives, now and for decades to come!
Your gift can establish permanent scholarships for Yale's rising generation of advanced practice nurses and midwives. You can underwrite funding for critical equipment or innovation in the classroom. Or you can help recruit the outstanding faculty who are a hallmark of Yale's nursing education—all while doubling your impact.
For more information about participating in the $50 Million Challenge, please contact:
Gail McCulloch, Associate Dean for Development & Alumni Affairs
Phone: 203-785-7920
Email: gail.mcculloch@yale.edu
---