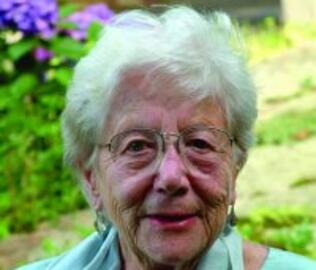 90 Outstanding Yale Nurses Recipient
Class of 1941
Florence Schorske Wald, RN, MN, MS, FAAN, is a member of the National Women's Hall of Fame and an American Academy of Nursing Living Legend. She served as fourth dean of YSN from 1959 to 1966. She is credited with bringing the first hospice movement to the United States from England and establishing the first hospice unit in the United States, and created a model for hospice in the U.S. and abroad.
A world-renowned leader in nursing, Florence initiated and implemented numerous reforms in educational programs, guiding YSN to a new definition of nursing as a scholarly clinical discipline based in specialist nursing practice. Prior to her passing, she integrated the hospice model of compassion and dignity in death into the Connecticut Correctional Facilities. Since its implementation, inmates have been trained to be hospice volunteers within state correctional facilities.
She received many awards and accolades, including membership in the American Nurses Association Hall of Fame and the Connecticut Hall of Fame, the YSN 
Distinguished Alumna Award, the Founder's Award of the American Hospice Association, and the first Florence S. Wald Award for Contributions to Nursing Practice of the Connecticut Nurses Association. In 2007, the Connecticut Department of Veterans Affairs dedicated the Florence and Henry Wald House to provide a peaceful temporary home for families of hospice patients.