Beth Esstman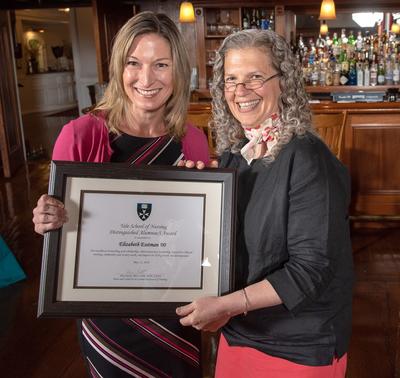 Beth Esstman, CN '99, MSN '00 graduated with a MSN from the class of 2000. Ms. Esstman is board certified as a Gerontological Nurse Practitioner and as an Adult Gerontology Primary Care Nurse Practitioner by the American Nurses Credentialing Center (ANCC). She has dedicated her career to maximizing quality care to older adults, to enhancing the geriatric education of nurses, and to advocating for the role of the nurse practitioner.
She currently practices in Connecticut providing comprehensive, specialized geriatric primary care to homebound older adults and hospice patients living in the community. Ms. Esstman was instrumental in establishing the Nurses Improving Care to Healthsystem Elders (NICHE) program in a long-term care facility in Connecticut, making it the first skilled nursing facility in the state to incorporate this nationally recognized initiative to improve geriatric care and to educate nurses in specialized geriatric care.
She has been a Clinical Instructor for the Yale School of Nursing since 2007.
Ms. Esstman has served on the national Adult-Gerontological Nurse Practitioner Primary Care Content Expert Panel with the ANCC since 2011. She was elected Vice Chair of the Content Expert Panel in October 2013 and elected Chair of the Expert Panel in December 2017.
Ms. Esstman has served on the board of the New England Gerontological Advanced Practice Nurses Association (GAPNA), the national GAPNA long term care special interest group, and the national GAPNA health affairs committee. She is currently a board member of the Acute Care Geriatric Nursing Collaborative.
Ms. Esstman fought to allow Advanced Practice Nurses in Connecticut to write Do Not Resuscitate orders by educating nursing groups, meeting with legislatures and presenting testimony to the public health committee.
She has published in Consultant and in the John A. Hartford Institute for Geriatric Nursing's Try This Series: Best Practice's in Nursing Care to Older Adults. 
The Yale School of Nursing Alumni Association proudly claims Beth Esstman as a distinguished alumnus.