Cynthia Perry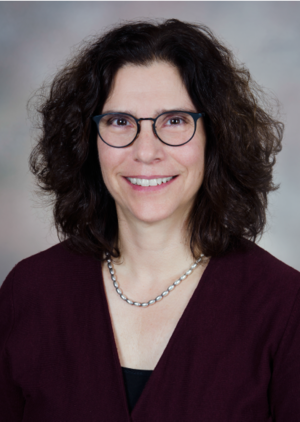 Cynthia Perry, PhD, FNP-BC, FAHA is from the class of 1990. Her education at Yale set her on her path to being a family nurse practitioner and later a researcher. Her master's thesis examined the impact of unpredictable violence on teenagers' sense of self and completing this thesis sparked her interest in research.  Upon graduation, Cindi moved to Oregon taking a position with the Indian Health Service. She has made the Pacific Northwest her home.  For the first 11 years of her practice, Cindi practiced in primary care much of those years in rural Oregon. During that time, she saw first-hand the impact of health inequities and disparities between men and women regarding heart disease. Thus, she decided to pursue a PhD in nursing science in order to conduct research aimed at addressing health disparities through physical activity promotion. In 2001, she entered the doctoral program at Oregon Health & Science University and earned her PhD in 2005.  From 2005 to 2013 she was on faculty at University of Washington in the Department of Family and Child Nursing. Since July 2013 she served as the Director of the Family Nurse Practitioner program and she is an associate professor at Oregon Health & Science University School of Nursing. Throughout her career, she has continued to practice as a family nurse practitioner.
For the past decade, she has worked with a rural Latino community in Central Washington state using a community-based participatory research approach in order to promote physical activity in this community. Her work on physical activity promotion within this rural Latino community has engaged policy stakeholders and generated sustainable community change. Research results from this work have translated into local policy.  Data from their community assessment with this rural community's youth revealed a significant positive association between physical inactivity and risk behaviors, including gang involvement. This research compelled the city council to vote for a sustained financial commitment to the community center, including funds for offering organized physical activity programming for youth. Data from an observation assessment of physical activity in elementary schoolyards during recess revealed that older students were less active in part because equipment was geared toward younger students (e.g. swings). This information propelled the superintendent to commit to purchasing equipment germane for older elementary students. As part of her work in this community they developed an after school physical activity program using evidence-based strategies. Youth participating in the program decreased sedentary time. Parents reported that the program provided a safe place for their children to be active and that their children expressed excitement about the class. Participants described the program fun and enjoyable one participant stated, "It gives me a place to belong" and another "I like the communication and interacting with others." The success of the after school physical activity program they developed and tested for middle school students resulted in the inclusion of a physical activity room within a newly built student health center in the high school and a commitment to supporting organized physical activity for youth. Currently, they have turned our focus to Latinas.  Over the past two years they adapted for rural Latinas an evidence-based physical activity and nutrition program and have just completed a pilot study of this adapted program and have found promising results, participants lost on average 1.5 pounds and 1.2 inches in waist circumference and improved fitness. They are in the process of preparing an application to conduct an effectiveness and dissemination trial.
At the national level, Cindi strives to increase professional and public awareness of the importance of incorporating physical activity and decreasing sedentary behavior within daily life to improve health. In her role as the chair of the policy committee for the physical activity section of the American Public Health Association, she led a team in advancing a policy statement regarding the importance of building national public health capacity to promote active aging and this policy statement has been endorsement by the American Public Health Association. Currently she is working with the policy committee on updating a policy statement supporting the National Physical Activity Plan. She worked with a national team on the development of American Heart Association Scientific Statement on sedentary behavior and cardiovascular morbidity and currently she is working with a team on a Scientific Statement focused on sedentary behavior and childhood obesity.
Additionally, she is engaged in several research projects with two national collaborative research networks funded by the CDC extending my research influence to the national level: the Physical Activity Policy Research Network (PAPRN) aimed at building evidence to inform policy (e.g. active transportation) and the Cancer Prevention and Control Research Network (CPCRN) aimed at the implementation and dissemination of evidence-based cancer prevention interventions into practice.  For example, in a collaborative research project with PAPRN colleagues, they conducted qualitative research to inform the development of recommendations for ways to communicate the health benefits of walking to low-income mothers. In another PAPRN project they are examining the policy and environmental factors in US rural counties that lead some counties to achieve a majority of their residents meeting national physical activity guidelines to guide policy and environment level interventions in those rural counties that have low levels of physical activity engagement.
Cindi is committed to developing a diverse generation of family nurse practitioners prepared to practice to the full extent of their license as another avenue to addressing health disparities. She co-led a task force at University of Washington to re-envision the DNP program so that it is a quality and sustainable program. As the director of the family nurse practitioner program at Oregon Health & Science University she led a reorganization of the FNP program so that graduates receive a high-quality education allowing them to practice to the full extent of their license. Additionally, she was successful in instituting holistic admissions procedures for the FNP program. This has resulted in diverse and academically strong cohorts of students, one year receiving recognition by the school as the Advanced Practice Nursing program with the most student diversity. As Oregon is a mostly rural state with significant primary care shortages in the rural areas, she is extending the opportunity to rural students in the state to attend the FNP program without having to move to Portland. She has established a cohort of students in the southern part of the state (Ashland Oregon) and she is in the process of developing a cohort in the eastern part of the state (La Grande Oregon). Cynthia also was engaged on the Oregon State Board of Nursing Rule Advisory Committee on Education Standards and Licensure Standards. Using her ability to instigate change, has contributed to revising state policy and regulation so that they support producing a diverse generation of APNs who can practice to the full extent of their license throughout the state. These rule changes will be voted upon by the Oregon State Board of Nursing this fall.