Ruth McCorkle, PhD, RN, FAAN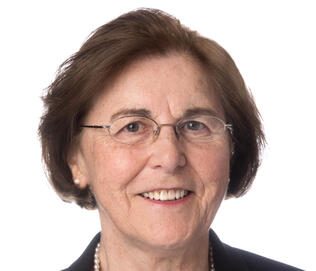 Florence Schorske Wald Emerita Professor of Nursing, Professor of Epidemiology
Yale School of Nursing - Room 20401
email: ruth.mccorkle@yale
phone: 203-737-4137
fax: 203-737-2414
About
A pioneer in oncology nursing, Ruth McCorkle – who retired in June, 2018 – was named the first Florence Schorske Wald Professor at the Yale School of Nursing (YSN). McCorkle is professor emerita of nursing, former director of the Center for Excellence in Chronic Illness Care, and she was chair of the Doctor of Nursing Science Program from 1998-2004. She was also the program leader for Cancer Control at the Yale Comprehensive Cancer Center (YCCC) from 1998-2010, and a professor in the Department of Epidemiology and Public Health at the Yale School of Medicine. McCorkle is currently the director of Psychosocial Oncology at YCCC.
She received a bachelor's degree in nursing from the University of Maryland and a master's in medical-surgical nursing from the University of Iowa. Her doctorate, in mass communications, was earned at the University of Iowa's School of Journalism. She has held teaching positions at a variety of institutions across the country, including the University of Pennsylvania, the University of Washington, and the University of Iowa.
Elected to the Institute of Medicine in 1990, McCorkle is the recipient of numerous scholarships and awards. Some of her many honors include the Book of the Year Award for Cancer Nursing from the American Journal of Nursing, a Distinguished Merit Award from the International Society of Nurses in Cancer Care, and a Distinguished Research Award from the Oncology Nursing Society. She was named the Nurse Scientist of the Year by the Council of Nurse Researchers of the American Nurses Association, one of the most coveted awards in the field of nursing. In 2009, she received the Bernard Fox Research Award for outstanding contribution to the field of psycho-oncology. Recently, she received the Jimmie Holland Leadership Award and the Trish Green Quality of Life Award and was inducted into the 2014 International Nurse Researcher Hall of Fame, Sigma Theta Tau International Honor Society of Nursing. A prolific writer, her work appears in many professional journals in the US and abroad.
Research Interests/Clinical Practice
Research Interests
McCorkle's interest in cancer and palliative care is longstanding. Over 40 years ago she studied at St. Christopher's Hospice in London, England, and participated in clinical studies to relieve distressing symptoms associated with dying. Since then, she has been continuously funded by the National Institutes of Health and other prestigious groups for her studies on managing life with cancer.
Her interests also include testing the effects of the role of the advanced practice nurse on patient and caregiver outcomes in cancer care.
Selec​ted Publications/Presentations
Publications
Lazenby, J. M., McCorkle, R., & Sulmasy, D., Editors.  (2014). Safe passage: A global sourcebook on spirituality at the end of life. New York: Oxford University Press.
Lazenby, M, Ercolano, E, Bai, M., McCorkle, R. (2013). Comparing the Distress Thermometer (DT) with the Patient Health Questionnaire (PHQ)-2 for Screening for Possible Cases of Depression among Patients Newly Diagnosed with Advanced Cancer. Palliative & Supportive Care. [Epub ahead of print.] doi: 10.1017/S1478951513000394
Wagner, E, Ludman, E, Bowles, A, Penfold, R, Reid, R, Rutter, Ca, Chubak, McCorkle, R. (2013). Nurse Navigators in Early Cancer Care: A Randomized, Controlled Trial. J Clin Oncol, 32(11), 12-8.
Barry, C. L., Carlso, M. D., Thompson, J. W., Schlesinger, M., McCorkle, R., Kasl, S. V., & Bradley, E. H. (2012). Caring for grieving family members: Results from a national hospice survey. Medical Care, 50, 578-584.
Lazenby, M., Ercolano, E., Schulman-Green, D., & McCorkle, R. (2012). Validity of the end-of-life professional caregiver survey to assess for multidisciplinary educational needs. Journal of Palliative Medicine, 15, 427-431.
McCorkle, R., Engelking, C., Lazenby, M., Davies, M. J., Ercolano, E., & Lyons, C. A. (2012). Perceptions of roles, practice patterns, and professional growth opportunities: Broadening the scope of advanced practice in oncology. Clinical Journal of Oncology Nursing, 16, 382-387.
Northouse, L., Williams, A., Given, B., & McCorkle R. (2012). Psychosocial care for family caregivers of patients with cancer.Journal Clinical Oncology, 30, 1227-1234.
Cohen SS, Luekens C, McCorkle R. (2011). Lessons learned in research, collaboration, and dissemination in a national institute of nursing research-funded research center. Journal of Professional Nursing ;27(3):153-60.
Carlson, M. D., Barry, C., Schesinger, M., McCorkle, R., Morrison, R. S., Cherlin, E., … Bradley, E. H. (2011). Quality of palliative care at US hospices: Results of a national survey. Medical Care, 49, 803-809.
Berry DL, Blumenstein BA, Halpenny B, Wolpin S, Fann JR, Austin-Seymour M, Bush N, Karras BT, Lober WB, McCorkle R. (2011). Enhancing patient-provider communication with the electronic self-report assessment for cancer: a randomized trial.Journal of Clinical Oncology;29(8):1029-35. Epub 2011 Jan 31.
Van Cleave JH, Egleston BL, Bourbonniere M, McCorkle R. (2011). Combining extant datasets with differing outcome measures across studies of older adults after cancer surgery. Research in Gerontogical Nursing;4(1):36-46. doi: 10.3928/19404921-20101201-02. Epub 2010 Dec 29.
McCorkle R, Ercolano E, Lazenby M, Schulman-Green D, Schilling LS, Lorig K, Wagner EH. (2011). Self-management: Enabling and empowering patients living with cancer as a chronic illness. CA Cancer  - A Journal for  Clinicians;61(1):50-62. Epub 2011 Jan 4. Review.
McCorkle R, Jeon S, Ercolano E, Schwartz P. (2011). Healthcare utilization in women after abdominal surgery for ovarian cancer. Nursing Research;60(1):47-57.
McCorkle, R., Dowd, M., Ercolano, E., Schulman-Green, D., Williams, A.L., Siefert, M.L., Steiner, J., Schwartz, P. (2009). Effects of a nursing intervention on quality life outcomes in post-surgical women with gynecological cancers. Psycho-Oncology18(1):62-70
Given, C.W., Sikorskii, A., Tamkus, D., Given, B., You, M., McCorkle, R., Champion, V., Decker, D. (2008). Managing symptoms among patients with breast cancer during chemotherapy: results of a two-arm behavioral trial. J Clin Oncol 26(36):5855-62.