Sascha James-Conterelli, DNP, CNM, LM, FACNM, FAAN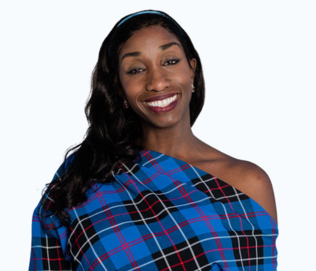 About
Sascha James-Conterelli received her bachelor's in nursing from Howard University and her masters in midwifery and doctorate from New York University. She has been practicing midwife since 2002. 
Dr. James-Conterelli's professional journey has been unique and broad reaching with practice settings in both the public and private sector. In 2005, she added political advocacy and policy to her clinical work opening the door to many exciting opportunities for advocacy of midwives to be recognized as invaluable stakeholders in perinatal care. These experiences cemented her idea of the importance of education which led to her transition to full-time professor in 2014 while maintaining clinical practice.
Dr. James-Conterelli is the immediate past president of ACNM's New York State affiliate; New York Midwives (NYM/NYSALM). She is also honored to continue to have opportunities to provide knowledge and expertise to many national and local policies such as the development of perinatal regionalization for New York State, serving as co-chair on Governor Andrew Cuomo's Maternal Mortality and Racial Disparities Task Force as well as a member of New York State's Maternal Mortality Steering Committee and New York State Maternal Mortality Review Board. Most recently Dr. James-Conterelli served as a member of Governor Andrew Cuomo's COVID-19 Maternity Task Force. 
Dr. James-Conterelli recognizes the importance of global outreach and have dedicated efforts towards assisting the midwives and the perinatal community in her home of the Virgin Islands and Puerto Rico.
Research Interests/Clinical Practice
Research Interests
Dr. James-Conterelli scholarly areas of interest include diversity, equity and inclusion as well as maternal mortality and racial disparities. 
Clinical Practice
Dr. James-Conterelli currently holds a joint appointment at YNHH and YSM as a certified nurse midwife with clinical practice at the Women's Center in new Haven and the Yale Midwives office in Westport. 
Selected Publications/Presentations
Publications
Wilcox, W., James-Conterelli, S. (2020). A Comprehensive Approach to Maternal Mortality and Disparate Racial Outcomes. Obstetrics & Gynecology:153,30S. 
James-Conterelli, S. (2020, May 1). Failing Mothers of Color- Yet again! Quickening. https://quickening.midwife.org/roundtable/failing-mothers-of-color-yet-again/
Powell-Kennedy, H., James-Conterelli, S. (2020). Elective Induction of Labor: Commentary on Shared Decision-Making.Birth(in revision). 
Book Chapters
Carr, K.C., Kennedy, H.P., James-Conterelli, S., & Blatt, R. Using Evidence to Support Quality Clinical Practice In K.D. Schuiling & F. E. Likis (Eds) Women's Gynecologic Health, Chapter 3, 2020.
Presentations
James-Conterelli (2018) "Midwifery: From Salem to the Millennium" - Guest lecturer for a women's studies course. SUNY-New Paltz, New Paltz, NY
James-Conterelli (2018) Payment for Midwifery Services- Guest lecture for APRN course -New York University Rory Meyers College of Nursing, New York, NY
James- Conterelli (2018) "Addressing Maternal and Infant Mortality: Strategies That Change the Health Equality Equation for Women, Children and Families" Panel Member- New York Academy of Science, New York, NY
James-Conterelli (2018) "Maternal Mortality and Racial Disparities" Panel Member- Bard College New York
James-Conterelli (2019) "New York State Association of Licensed Midwives: Background and Current Events"- Columbia University, New York
James-Conterelli (2019) "Contested Bodies" Race and Pregnancy Past and Present- Panel Member- Yale University 
James-Conterelli (2019) "Unpacking Bias in Maternity Care"- March of Dimes presentation at AWHONN in Atlanta Georgia
James- Conterelli (2019) "Addressing Maternal Mortality and Racial Disparities in an Urban Healthcare Setting" Presented at Midwifery Works Phoenix, Arizona
James-Conterelli (2019) "New York State's Comprehensive Approach to Maternal Mortality and Racial Disparities"- Inaugural Waldman/Meilcarski Patient Safety Lecture at ACOG DII Annual Meeting
James-Conterelli (2019) March of Dimes 2nd Annual Conference on Racial Disparities in Maternal Morbidity and Mortality @UConn Health
James-Conterelli (2020) NYU Rory Meyers Estelle Osborne Panel Presentation
James-Conterelli (2020) UPENN Podcast: AMPLIFY NURSING
James-Conterelli (2020) Gilder Lehrman Center (GLC) COVID-19 Conversations: Race and Medicine/Pandemic
James-Conterelli (2020) March of Dimes: "Healthy Moms, Strong Babies During the COVID-19 Pandemic"