Janet Constantino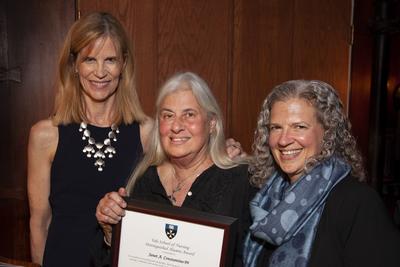 Janet Constantino '89 MSN, MBA (center) is a clinical nurse specialist at Martha's Vineyard Community Services Island Counseling Center in Oak Bluffs, MA.  As director of the substance abuse program, Constantino oversees an intensive outpatient program and a vivitrol and suboxone program.
After graduating from Yale, Constantino took a job with the APT Foundation in New Haven, which promotes the recovery of people struggling with substance use disorders or mental illness. She later spent nearly 20 years as the nurse practitioner at Leeway Inc., Connecticut's first and only nursing home dedicated to AIDS patients.
"YSN also instilled in me the importance of looking beyond our own culture to the health needs of the wider community," Constantino said. She travels annually to Haiti, where she responded to the earthquake and the cholera epidemic.
Constantino is a member of the American Academy of Nurse Practitioners and Sigma Theta Tau.