Kris A. McLoughlin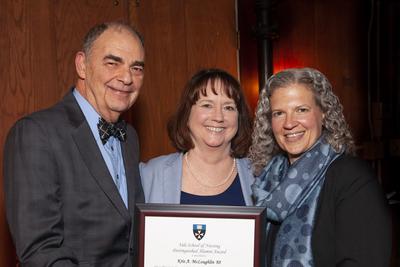 Dr. Kris A. McLoughlin '88 MSN, DNP, APRN, PMHCNS, BC, FAAN (center) is the director of nursing for behavioral health services at Parkland Health and Hospital Systems in Dallas, TX. She previously held the position of senior nursing advisor for the Substance Abuse and Mental Health Services Administration, an agency within the U.S. Department of Health and Human Services.
McLoughlin is nationally recognized as a mental health clinical and systems consultant, and she was appointed as a special monitor by the U.S. District Court for a Civil Rights of Institutionalized Persons (CRIPA) case involving the U.S. Department of Justice and the State of Hawaii. It was in this role that she led the rebuilding of the public mental health system in Hawaii.
"One of the things I value the most is my strong foundation as a clinician. It has been the cornerstone for every role I have had in my career, and I have Yale to thank for that," McLoughlin said.
McLoughlin is a fellow in the American Academy of Nursing and past president of the American Psychiatric Nurses Association.