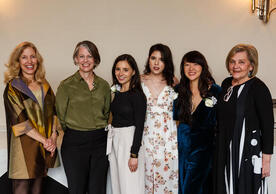 The Yale School of Nursing community gathered at the New Haven Lawn Club on April 18 for one of its signature annual programs: the 16th annual Creative Writing Awards (CWA). Linda Honan '89, MSN, PhD, FAAN, CNS-BC, RN, the heart and soul of CWA, described nurses as secret keepers, leaders, and mavericks. Honan and the CWA also highlighted their talents as powerful storytellers.
Clinical nurse and author Theresa Brown BSN, RN served as this year's featured speaker. Brown left academia for a nursing career, but she didn't abandon her PhD in English. The publication of her first article in The New York Times elicited a great response and a demand for more. As Brown described it "This is a voice we never hear. The voice of a bedside nurse." The article also led to her first book Critical Care: A New Nurse Faces Death, Life, and Everything in Between.
Out of 96 entries, three students were selected as winners. Each student was awarded the Griswold Special Care Creative Writing Award, read their essay aloud to a sold-out ballroom, and took home a cash prize of $1,000.
The Anatomy Lesson, an essay by Diane Kim '20 MSN, describes the unexpected intimacy of working with donors. The process of becoming acquainted with "bodies…who had lived and loved, and were still dear to those they had left behind." To learn the secrets of a stranger inside and out brings them closer together, and by the conclusion of the essay, Kim and the body are old friends.
Camila Soto Espinoza '21 MSN received a standing ovation at the conclusion of The Women of My Family, a deeply personal tribute to "the best nurses the world never got to know." Espinoza's essay movingly describes a childhood of poverty and violence in Chile, and a community of sacrifice well known to nurses throughout the world.
Many members of the audience nodded knowingly and laughed freely during the combination of terror and humor in A Small White Card by Cale Wardell '20 MSN. When the flight attendant out of O'Hare desperately asked for a licensed health professional over the intercom, Wardell knew she had a choice to make. "In that moment I did not know if what I had to offer was enough, but I did know that I came to Yale in order to fulfil a lifelong desire to help others; and that was why I pushed the button."
In addition to the top three winners, the preliminary judges also recognized the entrants who made it to the final round of consideration: Sebastian Beshk, Marian Blawie, Rae Caliento, Harley Chung, Lauren Eddy, Jess Harris, Sylvia Kang, Elizabeth Renker, Jenessa Payano Stark, Nikki Schachman, Naomi Schwartz, and Sarah Van Buren.
A group of students was also saluted as Honorable Mentions: Mariah Baril-Dore, Sara Culver, Danielle DiPerna, Sylvia Kang (for a second submission), Casey Magis-Agosta, David McIntosh, Ashley Medley, Jaclynn Missler, Jennifer Persio, Alanna Sade-Milberg, Chelsea Smith, and Kendall Tamler.
Watch the full awards ceremony here.
Read the full text of each winner's essay here.