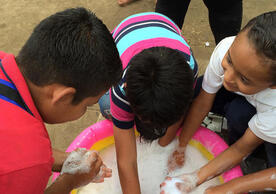 Mark your calendars for a global health symposium on May 3 which will feature the work of  YSN's faculty and students across the globe. Come and learn how they are working to positively affect health  around the world through their research and capability building efforts.  It will take place from 11:00 am-2:00 pm at the Yale School of Nursing, 400 West Campus Drive.
Please RSVP to Maryann Marshak at maryann.fuentesmarshak@yale.edu. The event is sponsored Yale School of Nursing's Center for International Nursing Scholarship and Education. Speakers include:
Ann Kurth, Dean and the Linda Koch Lorimer Professor of Nursing: Welcome & Overview
Patricia Ryan-Krause, Associate Professor of Nursing & Clinical Coordinator (CINSE) & Lindsay Powell, Lecturer in and Assistant Clinical Professor of Nursing: Capacity Building through Engagement and Education in a Rural Nicaraguan Community.
Rosana Gonzalez-Colaso, Assistant Professor in the Physician Associate Program at the Yale School of Medicine: Interprofessional Diabetes Care and Nursing Roles within Primary Care Teams in Mexico
Dena Schulman-Green, Research Scientist in Nursing: Assessing and Addressing Infrastructure, Education, and Research in Palliative and Hospice Care in Israel.
Michelle Telfer, Clinical Faculty & Lecturer in Nurse-Midwifery & Women's Health Specialty/GEPN programs: Establishment of a Midwifery Partnershjp with Yale School of Nursing, the Uganda Birth House, and Makerere University.
Shuyuan Huang, Student: Readiness to Disclose Mother's HIV diagnosis to their Children in Beijing, China.
Jennifer Grise, Gianvieve Schwirblat, YSN students: Unite for Sight Conference
Suzannah Johnston, Student: Consortium of Universities for Global Health.
There will also be a faculty workshop at 1:15 pm on How to initiate and lead a global heath project and the steps needed to prepare an effective project, proposal, and budget.
All welcome!