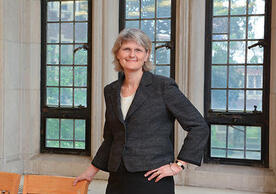 In considering the 53rd Annual Bellos lecture honoree, Yale School of Nursing sought a woman whose work has been incalculably impactful both nationally and internationally. In the case of this year's honoree, that work also happens to be incredibly timely.
Elizabeth Bradley, the Brady-Johnson Professor of Grand Strategy, Head of Branford College, Professor of Public Health, and Faculty Director of the Yale Global Health Leadership Institute, has been named as YSN's 2017 Bellos Lecturer.
Dr. Bradley, who has been named the next president of Vassar College, has contributed immeasurably to the interdisciplinary approach now applied across the healthcare continuum (education, research, and practice) making it a foundational principle of the Global Health Leadership Institute.
Her presentation will focus on understanding why the U.S. spends far more money on its healthcare system but sees a population that is far less healthy. She'll examine the social and cultural factors that have led to the current system and identify potential leverage points for positive change.  It's a topic she explored in her most recent book, "The American Healthcare Paradox: Why Spending More Is Getting Us Less."
Established in 1964, the Bellos lecture honors 1927 Yale School of Nursing graduate Sybil Palmer Bellos, who forged an exemplary nursing career, working with immigrant families in New York and holding several leadership positions in New York and Connecticut. Each year, the Bellos lecture features a remarkable individual who epitomizes Bellos' dedication to expanding the frontiers of healthcare.
Dr. Bradley's lecture will be immediately followed by the Wisser Tea Reception.
Learn more about the event here.