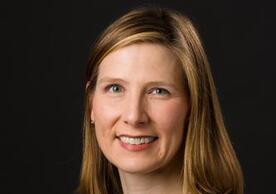 Yale School of Medicine's Dr. Jessica L. Illuzzi, MD, MS, FACOG has been awarded the Louis M. Hellman Midwifery Partnership Award by the American College of Nurse-Midwives.
She is being recognized for her years of support for midwifery practice at Yale School of Medicine where she is an Associate Professor; at Vidone Birthing Center, St. Raphael Campus of Yale New Haven Hospital where she is the Medical Director and also through her national work with the American Association of Birth Centers as well as the American Academy of Pediatrics Neonatal Resuscitation Committee.
Dr. Illuzzi is renowned for her expertise in "examining and building upon the evidence surrounding obstetric intervention," her past research having been instrumental in identifying the causes of the rising rate of cesarean delivery and bringing national attention to the issue.
She has also, importantly, been recognized for her work to advance interdisciplinary education in obstetrics, gynecology and midwifery.
This ACNM award is presented to physicians who have championed and supported midwifery practice and will be awarded to Dr. Illuzzi at the ACNM annual meeting in Chicago this May.