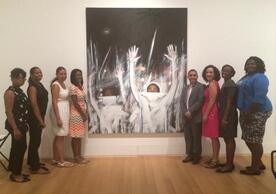 From June 12-16, 2017, the YSN Office of Diversity and Inclusion (ODI) had the honor of hosting seven outstanding early career nurse scientists from across the nation for the inaugural Summer Intensive. The primary goals of the YSN ODI Summer Intensive are to support early career nurse scientists from underrepresented backgrounds in their career development and to take an active approach to enhancing diversity in nursing science with a social justice and health equity focus. 
The week-long program was jam-packed with sessions on grant writing and submissions, navigating the challenges of conducting health disparities research, teaching, mentoring, career planning and the tenure process, and university resources in both research and diversity.  Scholars also toured West Campus, Main Campus, and the Yale University Art Gallery, and attended Motown the Musical at the Shubert Theater.  Speakers from across the University shared their expertise with the scholars and YSN faculty provided one-on-one mentoring their mentees.  During the Summer Intensive, the scholars were able to build their networks and develop the beginnings of long-lasting collaborations to advance nursing science. 
Dr. Jacquelyn Taylor, Associate Dean for Diversity and Inclusion, led the program planning and implementation efforts: "It was truly a pleasure to get to know and work with the #YSNSI2017 Scholars, and I am certain that they will go on to exemplary careers in academia! I am already so proud of them and I know they will continue to blaze the trail for excellence in all things and will serve as stellar examples for those up and coming. I am honored to have been a small part in their bright journey."  Heather Reynolds, Minority Student Coordinator, also provided support and mentorship to the scholars throughout the week.
The feedback on the program was overwhelming positive and participants reported that the program exceeded their expectations.  Scholars shared that the combination of the bond they formed within their cohort and the excellent career development content they received made for a program that will have a long-lasting positive impact on their nursing careers.  By all accounts, the Summer Intensive was a resounding success.
Photo: The 2017 Summer Intensive group at the Yale University Art Gallery