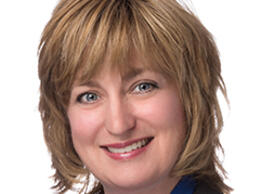 Congratulations to Alison Moriarty Daley who was awarded the Loretta C. Ford Distinguished Fellow Award at the annual meeting of the National Association of Pediatric Nurse Practitioners (NAPNAP) in Chicago, one of the organization's highest honors. With more than 8,800 members, NAPNAP is the professional association for pediatric nurse practitioners (PNPs) and all pediatric-focused advanced practice registered nurses.
Alison Moriarty Daley is jointly appointed as an associate professor at Yale School of Nursing and the Yale-New Haven Hospital Adolescent Clinic. She is a member of, and specialty coordinator for, the Pediatric Nurse Practitioner Specialty.  She teaches primary care of the adolescent and clinical practice in the primary care of adolescents. In her role as a PNP, she is the coordinator and clinician at the Hill-Regional Career School-Based Clinic and clinician at the Adolescent Clinic.
She is founder and co-facilitator of Memories, an art-therapy grief and bereavement group for high school students who have suffered the loss of a loved one as well as chair of the Mayor's Teen Pregnancy Prevention Council for the City of New Haven.