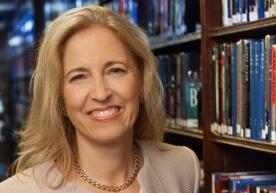 Ann Kurth, the inaugural Linda Koch Lorimer Professor of Nursing, is dean of the Yale School of Nursing and an expert on global health.
As a clinically trained epidemiologist, Kurth focuses her research on how to improve the prevention, detection, and care of HIV and other sexually transmitted infections; to promote reproductive health; and to strengthen health systems globally by using information and communication technologies, among other approaches, to further the establishment of health care and workforce training programs. Her work in the United States and abroad has been funded by the National Institutes of Health (NIH), the Bill & Melinda Gates Foundation, UNAIDS, the Centers for Disease Control and Prevention (CDC), and the U.S. Health and Resources Administration, among others.
After graduating from Princeton, Kurth earned an M.P.H. in population and family health from Columbia University, a master's degree in nursing (specializing in midwifery) from Yale in 1990, and a Ph.D. in epidemiology from the University of Washington. Prior to her appointment as dean of the School of Nursing, she was the Paulette Goddard Professor of Global Health Nursing at New York University. At the NYU College of Nursing, she founded and was executive director of NYUCN Global, which conducts research and implements programs to improve the health and well being of individuals, families, and communities in the United States and throughout the world. She is adjunct professor of nursing and public health at New York University, and also adjunct professor at Yale School of Public Health
Kurth has published 160 peer-reviewed articles, book chapters, and scholarly monographs, and is a regular reviewer for public health, medical, and nursing journals. She edited one of the first books published on women and HIV: "Until the Cure" (Yale University Press).
The Yale professor has consulted for the NIH, the Gates Foundation, the World Health Organization, and the CDC, among others. She was a member of the Institute of Medicine (IOM)/National Academy of Science Committee on PEPFAR Evaluation (report to Congress 2/2013), where she led the Health System Strengthening workgroup.
For her contributions to science and her leadership, Kurth has been honored with the International Nurse Researcher Hall of Fame award from Sigma Theta Tau International, the global nursing honor society. She is vice chair of the Consortium of Universities in Global Health which has over 140 university members, and a fellow of the American Academy of Nursing, and the New York Academy of Medicine. Kurth was elected as a fellow of the IOM/National Academy of Medicine in 2013. She is a member of the 2014-2018 U.S. Preventive Services Task Force, which sets screening guidelines for primary care in the US.
The Linda Koch Lorimer Professorship honors a distinguished faculty member in any field, "who is an exemplary citizen of the university, and who embodies the attributes and character demonstrated by Linda Koch Lorimer '77 J.D., including her commitment to a legacy of women at Yale." Lorimer has served Yale for over 30 years in myriad appointments. As vice president and secretary, she oversaw a number of transformative initiatives, including the creation of the Office of International Affairs, the Office of New Haven and State Affairs, and the Office of Digital Dissemination and Online Education.