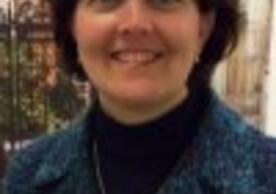 September 21, 2015 – Earlier this month, YSN Assistant Professor Marianne Davies, DNP, MSN, RN, APRN, CNS-BC, ACNP-BC, AOCNP, attended and presented at the 16th World Conference on Lung Cancer (WCLC) held in Denver, CO. Davies spoke about managing side effects for patients on immune therapy.
At the conference, Davies discussed her review of immune-related adverse events (irAEs) associated with immune checkpoint inhibitors and other anticancer immune therapies. "Patients and healthcare providers must be educated about potential immune-mediated AEs [adverse events] prior to treatment with checkpoint inhibitors," said Davies. "Early recognition of immune-mediated AEs is essential to effective treatment."
Davies' has developed a standard algorithm to help guide members of the multidisciplinary team who care for cancer patients with assessment, monitoring, and management of irAEs with checkpoint inhibitors, is to achieve early identification and treatment of irAEs to minimize the risk for advanced toxicities and long-term complications.
Earlier this summer, Davies spoke with Oncology Nursing News about how best to help patients with immune therapy side effects. Watch the interview here.
The WCLC is the world's largest meeting dedicated to lung cancer and other thoracic malignancies. More than 7,000 delegates come from more than 100 countries to discuss the latest developments in thoracic malignancy research.