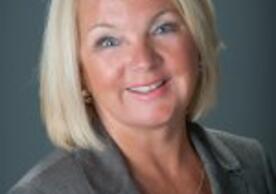 Earlier this semester, YSN associate professor Geraldine Marrocco, EdD, APRN, CNS, ANP-BC, was appointed to serve on the National Council of State Boards of Nursing (NCSBN) Education Committee. As a committee member, Dr. Marrocco will examine advanced practice nursing educational programs in the United States.
"It is an honor to receive this two year appointment to NCSBN," said Dr. Marrocco. "Nursing is facing many challenges and demands as our status continues to elevate in the delivery of health care to Americans. Advanced practice nurses (APRNs) are, and will continue to be, in great demand in all health care settings."
Many states have given APRNs full rights and privileges to practice to the fullest scope of their education. However, as of now, many graduate nursing programs have not had oversight from their state boards. It is the committee's task to explore the responsibility to the public for this level of nursing education and subsequent practice.
Currently, Dr. Marrocco serves as a member of Connecticut's State Board Examiners for Nursing, which provides opportunities for review of nursing programs in the state as well as supporting standards of care given by nurses. She also is an active member of the Connecticut Advance Practice Registered Nurse organization, and serves on the Advisory Board of the Nightingale Initiative for Global Health and Connecticut Hospice of Branford. Dr. Marrocco owns and manages her own primary care practice. 
The committee was formed in 2015 within NCSBN to discuss current educational trends in graduate nursing. This year, they will explore the pros and cons of Member Board oversight of APRN education programs and make recommendations to the Board of Directors.
Founded in 1978, NCSBN is an independent, not-for-profit organization in which boards of nursing act and counsel on matters of the common interest and concern affecting public health, safety, and welfare. It provides education, service, and research through collaborative leadership to promote evidence-based regulatory excellence for patient safety and public protection. This includes the development of nursing licensure examinations.