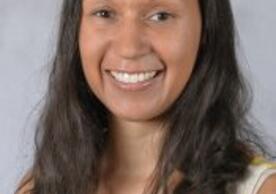 Earlier this semester, YSN Associate Professor Jacquelyn Taylor was elected a Fellow of the American Heart Association (AHA) with the Cardiovascular and Stroke Nursing Council (CVSN). Taylor will be honored at the AHA Scientific Sessions in Orlando, Florida, on November 10th, 2015.
AHA Fellowship recognizes an individuals scientific and professional accomplishments and volunteer leadership and service. "Membership in CVSN with the AHA means that I am able to network with global leaders in cardiovascular nursing," said Taylor. "Additionally, Fellowship means that I can contribute to the shaping of ideas and initiatives that may aid in reducing cardiovascular health disparities worldwide." 
Taylor is also a Fellow of the American Academy of Nursing and was recipient of the 2015 Professional Award from The New Haven Club of The National Association of Negro Business and Professional Women's Clubs, Inc. She is a Robert Wood Johnson Foundation Nurse Faculty Scholar Alumna and currently Principal Investigator (PI) on a $3.4 million grant from the National Institute of Nursing Research. 
The American Heart Association is the nation's oldest and largest voluntary organization dedicated to fighting heart disease and stroke. Founded by six cardiologists in 1924, AHA now includes more than 22.5 million volunteers and supporters. The organization aims to improve the lives of all Americans by providing public health education in a variety of ways. The AHA is the nation's leader in CPR education training and provides science-based treatment guidelines to healthcare professionals to help them provide quality care to their patients. The organization educated lawmakers, policymakers, and the public as it advocates for changes to protect and improve the health of the nation's communities.