Yale School of Nursing's "Have Bones, Will Travel" exhibit was part of today's Yale Founders' Day celebration on Cross Campus. Pictured here, Professor Linda Honan intrigues members of the Yale community with fascinating facts about human bones. This exhibit is regularly used to introduce elementary, middle and high school childre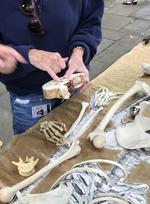 n to human anatomy while emphasizing health and safety, and has developed into a Connecticut-wide public education program.
October 9th marks 317 years to the day that "an act for Liberty to erect a Collegiate School" was approved by the New Haven Colony. That school eventually became Yale University. The whole community celebrated with a festive gathering, including food and live music, along with a series of tours, open houses, and displays in multiple locations around campus. Yale School of Nursing joined with colleagues from West Campus to host a display of some of the important work underway at the now 10-year old campus, and also shared some fun moments, as evidenced in this photo of Dean Kurth taking part in a Yale Blue chemistry demonstration alongside President Salovey, Vice President Scott Strobel, Secretary and Vice President Goff-Crews, Kim Heard, and Chris Incarvito. View more photos here.