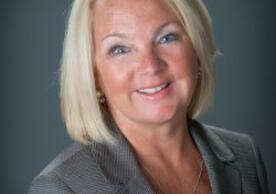 For years, students walked into class expecting a lecture by their professor, supplemented with a PowerPoint presentation and additional readings. However, emerging trends toward innovative teaching methods have persuaded many YSN professors to embrace new approaches, with the aim of improving the overall educational experience for students.
YSN Associate Professor Geraldine Marrocco teaches advanced primary care and now holds multiple interactive classes by incorporating new styles of teaching like team-based learning, "speed dating" for applied advanced treatment with drugs, and utilizing devices like Google Glass and Fly Wire to focus on self-reflection.
In team-based learning, students are provided PowerPoint presentations or other lectures before in-person class meetings. During class time, students are given a set of questions they are required to answer on their own, then in separate groups, then as a class. This scenario allows students the ability to interact with one another in a more active and collaborative manner, explaining and defending their personal answers to questions, as well as their group conclusions.
"Using team based learning techniques, the students are fully engaged in active learning activities and appreciate the value of being involved in the process," explained Marrocco. "Students realize quickly that if they come to class prepared with the readings, we can spend valuable class time discussing case studies while enhancing their critical thinking for practice scenarios. The dialogue between and among the teams sets the stage for the opportunity for transformational learning."
Marrocco's second year family nurse practitioner students were able to experience "speed dating" for pharmacology. In this interdisciplinary class session, Marrocco, in collaboration with pharmacist faculty at YSN, invited pharmacists from Yale-New Haven Hospital to participate in the "speed dating" experience with students. Each pharmacist was responsible for a specific topic, ranging from asthma to antibiotics. The students were rotated around tables with experts and picked up pearls of wisdom in the pharmacological management and treatment of patients with specific problems.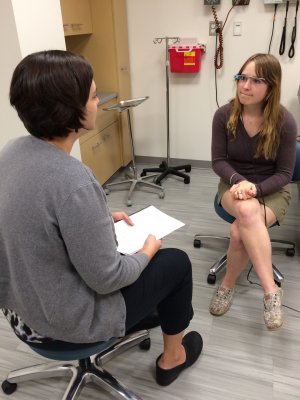 In 2014, Marrocco received a grant through Yale University's Bass Glass project, allowing her to incorporate Google Glass into the classroom setting. In this project, she enlisted the help of student actors from Yale to pose as patients. Wearing the Google Glasses and recording live first-person video, the actors posed as patients with a specific problem and were interviewed by YSN students. After the patient/nurse interview was completed, the YSN students were asked to reflect on their interview method, questions, and behavior. Once completed, they were provided the opportunity to watch themselves in the interview through the eyes of the patient/actor by viewing the video recorded by the Google Glasses. After they watched themselves, the students had the opportunity to critique their performance.
Overwhelmingly, students enjoyed the process and opportunity to reflect on their interview methods. Many were surprised by the questions they neglected to ask, and were able to learn more about their body language, facial expressions, tone of voice, and how their subtle behaviors may affect patient responses.
Last year, Marrocco was awarded a Rosenkranz Award from Yale, which provided funding to obtain Fly Wire, a device similar to Goggle Glass but at significantly less cost. She hopes to incorporate this reflective learning activity for all nurse practitioner students. The funding will also pay for the use of research assistants, evaluation of the rich data obtained from this learning activity and standardized patients, or someone who has been trained to portray a patient medical situation in a consistent and standardized way.
Marrocco continues to promote interprofessional learning through the Palliative Care Interprofessional Workshop at the Yale School of Medicine (YSM). The workshop consists of a team of faculty from YSM, Yale's Physician Associate program, Yale-New Haven Hospital, as well as social workers from Southern Connecticut State University, and clergy.
She is also a collaborating partner with the Connecticut Older Adult Collaborative for Health (COACH) program. Funded through a Health Resources and Services Administration grant to YSM Associate Professor of Medicine and Associate Chief for Clinical Affairs Lisa M. Walke, MD, the COACH program is an interdisciplinary geriatric workforce enhancement program that strives to improve the health of older adults in South Central and Southwestern Connecticut by equipping primary care providers to deliver care aligned with geriatric principles. 
In addition to her academic responsibilities, Marrocco owns and manages her own primary care practice in Trumbull, Conn., where she regularly sees her panel of patients and precepts nurse practitioner students. She was appointed a member of Connecticut's State Board of Nurse Examiners, a group appointed by the governor to regulate nursing practice through the establishment of standards, and also review and approve nursing programs in the state.
Marrocco was selected in August 2015 to serve on the National Council of State Boards of Nursing Committee (NCSBNC) to examine the pros and cons of regulating advanced practice nursing educational programs. She hopes to continue to offer her expertise in nursing education and practice on a national level with the National Council of State Boards of Nursing by representing New England, Pennsylvania, New York, and New Jersey.