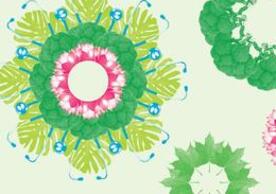 For the first time, Artspace's City-Wide Open Studios (CWOS) Alternative Space Weekend is coming to Yale's West Campus! New this year is Preview Day on Friday, October 26th! Enjoy an extra day before the crowds. All are welcome.
The Alternative Space Weekend sets New Haven's CWOS apart from other open studio weekends by offering artists from across Connecticut a unique backdrop to showcase their talents.
The 2018 theme—Wellbeing—finds its ideal location at Yale West Campus, which is home to Yale School of Nursing and numerous health science Institutes, as well as scholars dedicated to sustainable energy and the preservation of cultural heritage.
Over 200 artists will exhibit this year at Yale West Campus, Building 410 (adjacent to the School of Nursing). They will engage in a broad array of aesthetic and cultural sensibilities, stretching, poking and prodding various manifestations of Wellbeing. Events will include henna body painting, tai chi, live television and radio broadcasts, interactive performances, block printing demos, gift-making for cancer patients, documentary film screenings, musical meditation sessions and live readings, plus much more!