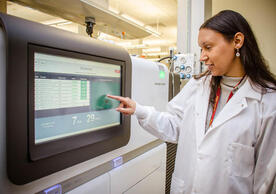 "Because nurses are at the forefront of patient interactions, it seems only fitting that nurse scientists lead the charge in genomic research that can be translated from the bench to bedside and be the agent for change in health policy related to genomic screening recommendations worldwide."
Yale School of Nursing's Jacquelyn Taylor PhD, PNP-BC, RN, FAHA, FAAN serves as the guest editor for the March issue of Nursing Research's special issue on Omics. It is in that capacity that Taylor, herself an award-winning genomics researcher, offered the above thesis in a commentary about the future of genomics and precision health and, specifically, the important role that nurse scientist and nurse clinicians have in the rapidly evolving healthcare environment. 
According to Taylor, who penned the commentary along with colleagues from Emory University, Columbia University and Massachusetts Institute of Technology, genomic sequencing is quickly becoming a routine standard of care, so, you'll want to read the full commentary here.