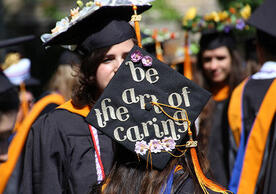 Warmest congratulations to the one hundred and fourteen Yale School of Nursing (YSN) graduates who received nursing degrees at Yale's 317th Commencement held today, Monday May 21, 2018. Three students were conferred with PhDs; fourteen became Doctors of Nursing Practice (DNP); and ninety-seven received Master of Science in Nursing (MSN) degrees. View a slideshow of some of the initial photos here.
After receiving the formal conferring of their degrees on Yale's historic Old Campus (see a video clip of the exuberant moment here), the students and their families attended the Yale School of Nursing's 92nd Commencement ceremony at the Shubert Theater, with the exception of the three graduates from the school's PhD program, who were presented with their degrees from the Graduate School of Arts and Sciences ceremony in Woolsey Hall.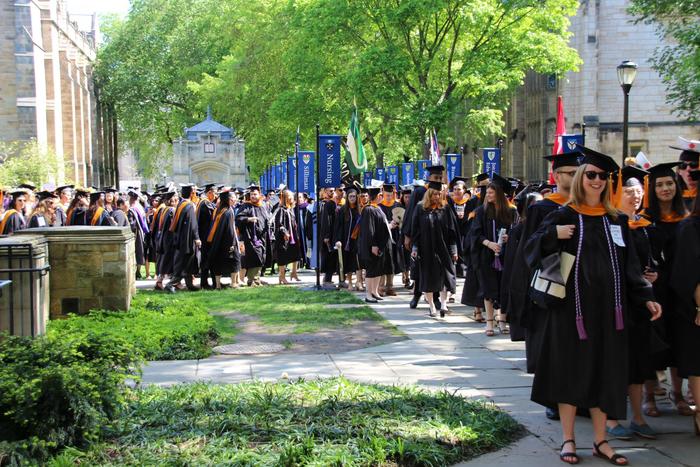 This year's Commencement speaker was Dr. Leslie Mancuso, President and CEO of Jhpiego, an international, non-profit health organization affiliated with Johns Hopkins University. For forty years and in over 155 countries, Jhpiego has worked to prevent the needless deaths of women and their families.
Dr. Mancuso's theme was to "leap, and the net will appear," citing examples from her own experiences all over the world. She talked about the importance of nursing today, describing the profession as being "bigger than any individual or technical area I could describe," but adding that, "With this new-found influence comes opportunities for nurses around the world to be the drivers of change, the innovators, the decision makers that can bring us to a new, more inclusive era in health care."
She exhorted graduates to "expect and demand a seat at the table," adding that "now is not the time to be timid, to wait to be asked for input or to join the conversation. No longer can we allow decisions to be made about our role in health care without leaders at the table able to speak on our behalf."
Her closing remarks encouraged graduates to "never stop learning; support one another; embrace opportunity—especially when it scares you—show empathy and don't forget that your voice is the most powerful tool you have, in nursing, and in life. If you don't go after what you want, you'll never have it. If you don't ask, the answer is always no. If you don't step forward, you're always in the same place. Leap, and the net will appear."
*Scroll down to read Dr. Leslie Mancuso's full biography.
The student address – a prestigious honor bestowed on a student each year following an essay contest – was given by Kelli Kozel, who spoke about finding the inspiration in the world around us, using the analogy of Nor'easter storms. Since Kelli hailed from California, she was first introduced to the world of Nor'easters during her time at Yale. She urged her fellow graduates to "be like the Nor'easters….be strong, fierce, and unabashed. Now more than ever there are vulnerable patients and populations who need us to advocate, do research, and provide quality care."
After these inspiring addresses, each student was presented with their diplomas by Dean Ann Kurth and Dr. Carmen Portillo, the executive deputy dean. Associate dean for student affairs, Saveena Dhall, and YSN Alumnae/I Association retiring chair, Mary Geary, presented the school pin – a longstanding tradition at the Yale School of Nursing where each degree recipient receives an individually engraved school pin. The tradition originated in the late 1800s when Florence Nightingale honored some of the graduates of her nursing school by giving them a medal. The evolution of this honorary medal has become the nursing pin, a traditional gift given by many nursing schools around the world to honor their graduates.
Multiple awards were given during the ceremony.
The Annie Goodrich Award recognizes the legacy of the founder and first dean of YSN and honors a faculty member with outstanding teaching skills, professional activities and effectiveness as a role model. This year, the student body honored Dr. Ruth McCorkle who recently celebrated her retirement after an exceptional career in oncology nursing.
The DAISY Award ("Diseases Attacking the Immune System") honors an extraordinary nurse and was given this year to faculty member Ronica Mukerjee who has demonstrated a powerful approach to engaging with, and teaching, her students.
Each year the Students and Faculty also recognize a staff member with a Staff Appreciation Award for their dedication to the students of YSN. This time, Sandra Esposito in the Office of Student Affairs received the award for her faithful work going above and beyond to support the YSN community.
The YSN Community Service Award is presented to a deserving student who has made outstanding contributions to the New Haven community through the delivery of health care or in volunteering their time in outreach efforts. This year's award went to Jana Young who devoted much of her time to the Haven Free Clinic, serving as the executive director of the Student Leadership board.
The Charles King, Jr. Memorial Scholars Aid Prize is given annually to a leading graduating student, who has demonstrated outstanding performance in scholarship, research, and clinical practice and who, through accomplishments in and leadership of all aspects of study, has inspired an admiration for professional work. Fanta Bayoh was honored for her commitment to advocating for health justice through the Global Health Justice Partnership. She proved herself a powerful leader, serving as president of Yale's Black Graduate Student Network, secretary of YSN's Student Government Organization, and co-founder of the Minority Student Nurses at YSN.
The Milton and Anne Sidney Prize was awarded to Tracy Kelly, who taught and practiced pediatric nursing in Rwanda, Tanzania, Mauritania, and Sierra Leone. It goes to a student whose research praxis, in the judgment of the faculty, best exemplifies the school's commitment to clinical research and its mission to contribute to better health for all people through systematic study of the nature and effect of nursing practice. Tracy embarked on a rigorous two-part systematic study to create learning domains, competencies, and evaluation items for graduate nursing global health clinical immersion programs that can guide curricular planning, implementation, and post-immersion evaluation.
The Connecticut Holistic Health Association prize for academic excellence is given to a student demonstrating academic excellence in a holistically oriented research or clinical project of significant social relevance. Recipient Hung Le advocated for people facing addictions through a community non-profit and co-founded YSN's Addiction Medicine Collaborative, an organization that serves to develop students' interest in topics relating to substance use disorder treatment and recovery.
The Leadership in Nursing Practice Prize went to Brighid Gannon, which recognizes a graduating DNP student who showed outstanding leadership in the capstone project. She developed an intervention for use with traumatized women in the largest homeless shelter in New York City, navigating the difficult terrain of a large public agency with multiple stakeholders and an intricate landscape with respect to legal, personnel, and human subjects and ethical considerations.
PhD student, Halley Ruppel was presented with the Anthony Di Guida Delta Mu Prize, given annually to a graduating doctoral student who exemplifies the love of scholarship and the joy in learning that Anthony embodied.
The Commencement proceedings ended with a celebratory reception in the Grand Ballroom of the nearby Omni Hotel.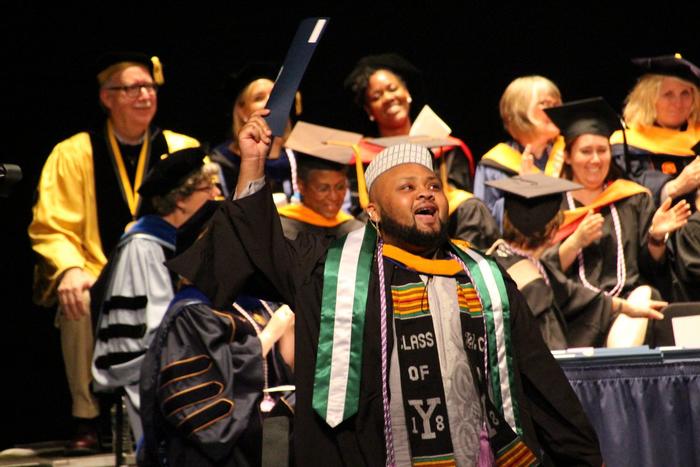 Dr. Leslie Mancuso
Dr. Leslie Mancuso, President and CEO of Jhpiego, a Johns Hopkins University affiliate and leader in creating and delivering health care solutions that save lives, improve health and transform futures across the globe. Under her leadership, Jhpiego received the Sigma Theta Tau International Archon Award and the United Nations Population Award. Dr. Mancuso also holds a joint appointment at the Johns Hopkins University School of Nursing Department of Community-Public Health, and is an adjunct professor at the University of Technology in Sydney, Australia.
A nurse and Fellow of the American Academy of Nursing, Dr. Mancuso has over 30 years of experience in developing public-private partnerships and is a recognized international business leader with a track record of success in bringing accountability and navigating changes in health care and the international nonprofit world.
A passionate advocate for the nursing profession, she serves on many boards, including the Advisory Council of the Johns Hopkins School of Nursing, the Sigma Theta Tau International's Global Advisory Panel on the Future of Nursing & Midwifery (GAPFON), the US-ASEAN Business Council, Inc., where she is acting chair of the Health and Life Science Working Group and the Life Science Innovation Forum of the Asia Pacific Economic Cooperation Organization. She has been the recipient of many prestigious business and professional awards, including the Regional Ernst & Young Entrepreneur of the Year Award.