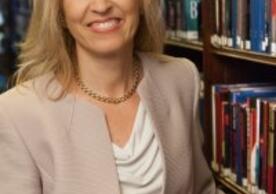 Last week, YSN dean designate Ann Kurth visited the Yale Center Beijing (YCB), marking YCB's one-year anniversary of opening. Dr. Kurth presented on new technologies in the healthcare industry, as well as areas of development and challenges for the healthcare industry in the United States to a team of Chinese executives.
Dr. Kurth noted how 40% of M&A deals in the U.S. occur in the healthcare industry, while China M&A accounts for 30%. This illustrated the growth of the healthcare industry in China and the U.S.
China's rapidly aging population also brings about the need for solutions in the areas of pensions, disease prevention, and rehabilitation. Dr. Kurth highlighted that, in China, investment on disease prevention only accounts for 3% of healthcare spending, and the ratio between doctors and nurses needs to be rebalanced.  
All involved in the seminar agreed that globalization, rapid developments in technology, and the pressing demands of aging societies will require more open and collaborative endeavors between China, the U.S., and the world.
During her visit, Dr. Kurth also attended an alumnae/i networking reception with Yale School of Management dean Edward A. Snyder. 
The Yale Center Beijing is dedicated to developing leaders of all regions of the globe and all sectors of society. The center is a place that holds dialogue about pressing issues and the exchange of ideas between leaders and decision makers. House in 16,500-square-feet of space in the Chaoyang District of Beijing, it enables the University to expand existing activities and form new partnerships with organizations in China, supports research and study from each of the University's schools and divisions, and serves as a gathering place for alumni from throughout Asia.