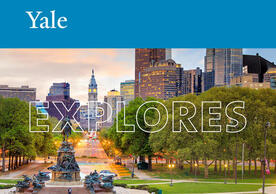 Dean Kurth will be one of the speakers at an upcoming Yale alumni event on October 3rd in Philadelphia. Yale Explores…Planetary Health: Safeguarding Human Health and the Natural Systems on Which It Depends is part of a series of "Yale Explores" events, whose aim is to bring together the Yale community for an evening of connection and an interdisciplinary exploration of challenges facing our world. At each event, members of the Yale faculty discuss a pressing topic from a variety of perspectives, and President Peter Salovey highlights Yale's vital role in these crucial conversations. All Yale alumni are invited to attend and can register here.
Debates have raged over humanity's effect on the health of the planet since the 1962 publication of Rachel Carson's Silent Spring. On a parallel track over that same period, medical scientists, researchers, and clinicians, harnessing new technologies, have dramatically improved human health and longevity around the globe. Now, amidst ominous signs that Earth's capacity to sustain this growth is faltering, has emerged an entirely new field, "Planetary Health." Launched in 2014, this movement advocates addressing human health and environmental health in an integrated way, in the conviction that one cannot be achieved without the other. Planetary health aims to maximize both the health of human civilization, including our political, economic, and social systems, and the health of the natural systems on which human life depends.  
Join Yale professors Daniel Esty, Ann Kurth, and Paul Turner for a wide-ranging exploration of planetary health and the research, collaborations, and policy implications that are resulting from their work. The conversation will be moderated by Margaret Warner '71, senior fellow at the Yale Jackson Institute for Global Affairs and former Chief Global Affairs Correspondent for PBS NewsHour, and will conclude with reflections from President Peter Salovey '86 Ph.D.