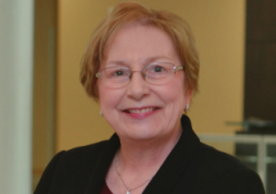 On the weekend of May 29-30th, YSN hosted a State of the Science Symposium and banquet in honor and celebration of Margaret Grey and her tenure as dean. The events coincided with the School's reunion weekend, which took place in both New Haven and on the West Campus.
Nearly 100 people attended Friday's State of the Science in Self-Management Symposium featuring keynote speaker Dr. Kate Lorig, director at the Stanford Patient Education Research Center and professor at Stanford School of Medicine. Moderated by Lois Sadler, presentations were given by several self-management experts including Ariana Chao '16, Sarah Jaser, PhD, Diane Berry, Robin Whittemore, and Susan Sullivan-Bolyai. Each presenter was mentored by Dean Grey and thanked her for the profound influence she has had on their career. The Symposium concluded with a cocktail reception.
On Saturday evening, the School welcomed guests to the West Campus Conference Center for a banquet celebrating Dean Grey. During the evening's festivities, the 2015 Distinguished Alumna/us Award was presented to Adele Pike '84. Pike was selected for her excellence in teaching and scholarship, clinical practice, leadership, research in clinical nursing, community and society work, and impact on YSN growth and development. The 2015 Alumni Service Award was given to Tina Burke '76 for her unflagging service to the School's mission of better health for all people.
To capture Dean Grey's impact on YSN, a video was shown featuring interviews with several Yale University leaders and members of the YSN community. Yale President Peter Salovey, Provost Benjamin Polak, Deputy Provost Stephanie Spangler, and Yale School of Engineering Dean Kyle T. Vanderlick were each interviewed and spoke highly of Dean Grey's influence on the School's educational programs and its move to Yale's West Campus. YSN Associate Professor and PhD Program Director Robin Whittemore, and PhD graduate Ariana Chao '15 spoke about Dean Grey's unwavering mentorship.
In addition, speakers Helen Burst, Robin Whittemore, MaryAnn Stump, and Stephanie Spangler painted a wonderful picture of Dean Grey's career at YSN and her passion for improving nursing education. Her husband, Mike Lauterbach, also spoke about her devotion to YSN and how proud he is of her accomplishments.
View a slideshow of the banquet photos below:

 

View a slideshow of photos from the Symposium below: