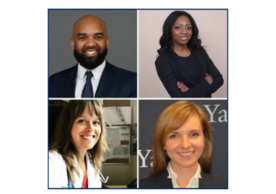 The Doctor of Nursing Practice (DNP) program at Yale School of Nursing focuses on leadership and policy and is designed for mid-career nurses who seek to become innovative health care leaders. For their capstone projects, students are immersed in real-world health care situations and use their knowledge and skills gained through curriculum and practica experiences to find a solution. Take a journey to learn more about the program through the work of four DNP students who are advancing health systems by expanding access to mental health services, diversifying the nursing workforce, developing terminology to address food insecurities, and increasing access to pain management through referral system improvements. 
Asa T. Briggs
Asa T. Briggs is a psychiatric mental health nurse practitioner and Director of Psychiatry at Unity Health Care, Inc. (UHC), a community-serving organization in Washington, DC. Briggs directs and implements the delivery of psychiatric services in community health clinics across the city.
His commitment to expanding access to mental health services, particularly among minorities and marginalized communities, led Briggs to testify in front of the Council of the District of Columbia Committee on Health in support of bill B23-145 District of Columbia Psychology Interjurisdictional Compact Act of 2019. This bill aims to address the workforce shortage in mental health care by regulating the practice of tele-psychiatry and the face to face practice of psychiatric and mental health services across state boundaries.
In his testimony, Briggs cited needs assessments that identified a shortage of qualified mental health professionals across the city and an unmet need for culturally sensitive and linguistically competent mental health professionals. He shared how the implementation of tele-psychiatric services at UHC has enabled it to expand access to psychiatric services to their homeless patients. The bill makes it easier for organizations like UHC to use telepsychiatry to assess patient needs and provide appropriate therapy, helping prevent mental health crises and poor health outcomes. In fact. the COVID-19 crisis has now led the federal Centers for Medicare & Medicaid Services to expand telepsychiatry and telehealth service availability and coverage.
After Yale, Briggs has his sights on working for a global health organization and implementing effective health system models for low to middle-income countries. Within this work, he hopes to develop a psychiatric nomenclature necessary for the delivery of culturally sensitive and relevant psychiatric services. 
Dewi Brown-DeVeaux
Dewi Brown-DeVeaux is from Jamaica, and her path to nursing was paved by her parents who instilled in her that education is the most important tool to achieve success. She currently serves as a nurse leader for the Neuroscience Progressive Care Unit and Acute Care Rehabilitation Unit at New York University Langone Health in New York City. 
Brown-DeVeaux is "deeply committed to the elimination of health and healthcare disparities in the underserved health populations." She notes that "a diverse healthcare workforce is needed to increase cultural competence and quality of care, including representation of African Americans and ethnic minorities in nursing leadership positions." She notes that career mobility and mentorship are crucial in attaining these positions, as she has found in her DNP program trajectory.
Brown-DeVeaux's DNP project, Utilizing a Mentorship Approach to Address Underrepresentation of African Americans and Ethnic Minorities in Senior Nursing Leadership, seeks to develop a mentorship program for ethnic minority nurse leaders. By integrating the principles of individual efficacy and self-confidence in ethnic minority nurse leaders as developed by the Leadership Institute of Black Nurses within the NYU Langone Health system, she believes career pathways to senior leadership positions become clearer. The desired ultimate result of this mentorship program is a diverse healthcare workforce that is better equipped to influence and shape organizational and national policies focused on eliminating health disparities and enhancing growth within institutions.
After Yale, Brown-DeVeaux's goal is to utilize evidence and skills to advance her career in a senior leadership role where she can have a greater impact on healthcare. Additionally, she would like to be one of the voices representing nursing and health in policy at the state or federal level. 
Sarah DeSilvey
Prior to nursing, Sarah DeSilvey studied philosophy and spent eleven years engaged in organic farming in western Montana. During the complex birth of her first baby, she saw how powerful nursing is in helping people reassemble themselves after a crisis, and she knew she had found her calling. She brought with her a farmer's focus on food and health. Her nursing master's thesis at the University of Vermont was on the implementation of food insecurity screening in inpatient pediatrics. This connected her to a core group of national food insecurity colleagues and the mission of addressing social needs in clinical settings. 
DeSilvey is currently a rural family nurse practitioner in Vermont and works extensively in regional health policy. She represents her health service area in Vermont's Accountable Care Organization. This role involves grassroots collaboration and broad policy strategy as Vermont has embarked on payment reform. 
Through her policy work she developed skills in informatics, and this combination of her interests led her to YSN. At the intersection of her fields, she could see how a lack of terminology limited the evaluation of certain social needs such as food insecurity. She knew she had to grow her toolkit to solve the problem. Her DNP project, Developing the Language and Tools to Address Food Insecurity, addressed this by completing three aims: defining food insecurity diagnostic terminology, defining intervention terminology, and crafting a common direction toward diagnostic criteria. 
Although she initially started this work unaccompanied, her national colleagues soon joined her, and the work evolved into one branch of the social determinants of the health (SDOH) terminology initiative called the Gravity Project, an 800+ member trans-professional collective supported by US insurers, professional organizations, and government agencies who focus on developing medical vocabularies and informatics to accurately assess and address social determinants. DeSilvey co-led the food insecurity terminology domain within the Gravity Project with the Academy of Nutrition and Dietetics. 
The outcome of this work was a comprehensive data set that will be built into US health system[KA2] coding systems. Further work will create a data standard to enable interoperable exchange with the global aim of improving the care of patients across settings. DeSilvey's focus on SDOH, and specifically food insecurity, represents a fitting model for the expansion of high-level nursing beyond health systems executive roles.
Her work on the Gravity Project has evolved, and DeSilvey will remain as the SDOH clinical informatics lead across further domains. This work is now supported by the US Office of the National Coordinator for Health Information Technology.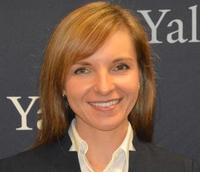 Ewelina Gibek
In addition to her role as the lead certified registered nurse anesthetist (CRNA) in the perioperative services at Yale New Haven Hospital, Ewelina Gibek participates on several hospital-level councils and committees for the advancement of healthcare systems. Her service work has led to system optimizations and work flow improvements, improved communications practices pertaining to end-of-life care, the implementation of system project Rounding with a Purpose, and the standardization of nursing policies and procedures across the Yale New Haven Health system.
Gibek's DNP project, Increasing Access to Interventional Pain Management Therapies for Palliative Care Patients with Cancer Through Referral System Improvement,aims to improve pain management and create evidence-based strategies to improve service integration. With the rise of  aging populations and cancer rates, Gibek recognizes an increased need for palliative care. She believes that broadening the scope of practice for CRNAs can transform current standards of care and consequently benefit palliative patients. She is committed to finding the connection between anesthesiology and palliative care to improve patients' end of life experiences, and she has also identified a lack in referrals of anesthesia care services in the palliative care setting, where pain management is essential. 
The results of her work include enhanced patient access to specialized pain management interventions, improved pain control, decreased opioid use, and increased patient satisfaction. The recommendations that resulted from her project could serve as a model for other institutions to increase access to care and offer a sustainable strategy to reduce patient opioid use.