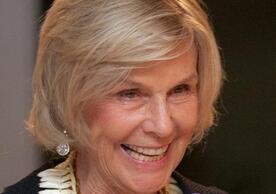 Nathan Christopherson '18 DNP learned his trauma-management skills as a U.S. Army combat medic and trauma nurse in Iraq. Currently the assistant vice president of the Northwell Health Trauma Institute, Christopherson oversees eight trauma centers in the New York metropolitan area, with a mission to bring evidence-based practices into wide-scale delivery of trauma care. Earning his new Doctor in Nursing Practice degree from Yale School of Nursing, he aims to improve trauma care. "Yale is helping me to ask questions on a higher level," Christopherson says. "How can we support our hospitals? What can I do to move the ball forward for trauma care everywhere? I'm learning and applying things to improve patient outcomes on a system-wide scale."
In support of healthcare professionals like Christopherson, Patricia Gruber has committed $3 million to the Yale School of Nursing (YSN) to create the Gruber Nursing Fellowship Fund. The Fund will provide full tuition for students who exhibit promise as future innovators and leaders in the field of nursing.
"We are so grateful to Pat Gruber for this magnificent gift, which is the largest gift from a living donor in the school's history," said School of Nursing Dean Ann Kurth '90 MSN. "Pat came to us with a clear vision of how to help our students think globally and with an entrepreneurial approach. Her generous endowment will have a lasting impact on the school and our students."
Practical training, global outlook
Starting this fall, the Gruber Fund will support one student a year, and when it is fully funded, the endowment will support three Gruber Fellows annually. "The Gruber Fund is meant for students who can work at the highest levels and bring an international perspective," Dean Kurth said. "This will include both DNPs and eventually Master of Science in Nursing students as well. We're looking for talented individuals who will apply leadership with a global focus. Since we're educating potential world leaders in nursing, we want to make sure they are equipped to work not only with patients, but also with health systems, governments, non-governmental organizations, and industry, for high impact and influence."
A focus on health systems
Students in the Doctor of Nursing Practice program, like Christopherson, focus on improving care on a macro level across health systems. In addition to studying advanced clinical nursing, these students participate in the management training and entrepreneurial skill-building needed to tackle big questions in healthcare. The benefits to patients and institutions are measurable: studies have shown that hospitals with nurses on their boards are more profitable and efficiently run than their peers.
Much of this education happens in collaboration with other professional schools at Yale, such as law, divinity, and management. "Interdisciplinary and interschool collaborations are a wonderful benefit of our DNP program," Kurth said. "Taking classes across the university and alongside peers on different career paths, our students can apply different perspectives to pressing policy issues. They develop skills they can take into their careers at institutions around the world."
"I am very happy to help the next generation of nurses," Gruber said. "Yale School of Nursing provides superb preparation to very talented young people who will go on to be not only tomorrow's caregivers, administrators, and researchers, but its health system leaders – and I am thrilled to help make this crucial Yale education more affordable."
This story was originally published in Eli Magazine, Yale University, August, 2018.