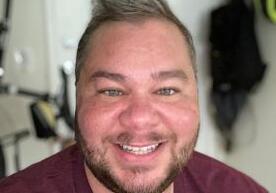 Oscar Anderson '25 MSN was inspired to pursue nursing to improve care for the transgender community.
After fifteen years working in research and communications, Oscar Anderson '25 MSN decided to make a career change and apply to nursing school.
The choice was inspired by his experiences navigating health care as a transgender man, and the realization that the lack of transgender representation in health care had devastating effects on the transgender community.
"As I became more connected with the trans community and saw the impact of ignorance of transgender issues in healthcare firsthand, I felt called to step up and become part of the solution," Anderson says.
While he personally had relatively few explicitly transphobic experiences with medical professionals, Anderson felt himself repeatedly having to educate his providers and answer basic questions about transgender identity.
"Psychologically, it's incredibly draining," Anderson says. "You've come in for some specific issue and instead of dealing with that, you're spending all of your time explaining how transition works. It makes you start to question, well, what else don't they know?"
Anderson hopes that as a transgender nurse practitioner, he will be able to foster trust with patients and ease the burden of explaining identity.
"If you don't have to start by explaining who you are and what you're about as a person, you can be more candid about issues that affect your health," Anderson says. "If you don't feel like you can trust your provider, you don't tell them anything. You minimize what you need to say and just get out of there. I want to be someone people can talk about things with that they might not be able to talk about with other providers."
Part of why Anderson chose Yale School of Nursing was the school's gender and sexuality concentration.
"Very few nursing schools offer dedicated clinical hours and didactic time to learning about caring for gender and sexual minorities," Anderson says. "It shows a commitment to making medical care more inclusive and accessible. Queer topics and transgender care are integrated into the curriculum here writ large, and not just siloed within the concentration. I've noticed the intentionality with making sure everyone who graduates from YSN is prepared to care for LGBTQ+ patients."
Anderson just finished up his first year in the
Graduate Entry Prespecialty in Nursing (GEPN) Program
, which allows college graduates like Anderson to earn their RN and MSN degrees in an accelerated three years. He aims to become a family nurse practitioner focused on primary care for LGBTQ patients.  
"Primary care allows you to build relationships with patients over time and really get to know them," Anderson says. "I've never had a trans medical provider, and I know it would have been a real weight off my shoulders to have a provider who I could let my guard down with because they understand this aspect of my identity. I feel called to be that provider for others, especially as access to care for transgender patients becomes more and more restricted."