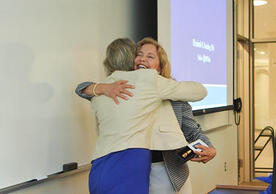 In her last lecture as a member of the Yale community, Elizabeth Bradley, professor of public health and head of Branford College, spoke Tuesday at West Campus as the honoree of Yale School of Nursing's 2017 Bellos Lecture.
Bradley, who will shortly become the next president of Vassar College, has contributed immeasurably to the interdisciplinary approach now applied across the healthcare continuum (education, research, and practice) making it a foundational principle of the Yale Global Health Leadership Institute where she served as faculty director until this year.
Her particularly timely presentation focused on understanding why the United States spends far more money on its healthcare system but sees a population that is far less healthy.
It's an urgent topic given the current political climate and one she explores in her most recent book, "The American Healthcare Paradox: Why Spending More Is Getting Us Less."
The United States spends about 18 percent of its GDP on healthcare (for context, 3 percent of U.S. GDP is spent on the military). By comparison, the public and private healthcare spending of other high-income nations; like France, Sweden, and the United Kingdom, accounts for about 10 percent of GDP.
But as Bradley points out, investment in health care does not necessarily mean investment in health. Her research has shown that social services (like job training and employment programs, housing support, or nutritional and family support) have a positive impact on quantifiable health outcomes like birth weight, premature death, and life expectancy.  While most wealthy countries devote about a third of their GDP to overall health spending, with the exception of the U.S., the majority of that spending is allocated to social services.
The issue, says Bradley, is a cultural one. Using the World Values Survey as a guide, she noted that in places like Scandinavia the top government priorities were seen as mitigating income inequality, promoting literacy and health. But in the United States, "the first priority is 'protect us from foreign invasions and attacks,' second is 'protect us in our neighborhoods from crime,' and the third is 'spur the economy.'"
So, is there a way to reconcile this paradox? At the federal level at least, Bradley isn't optimistic. She is, however, hopeful that at the state and local level collaboration between the healthcare sector and the community, programs like Live Well San Diego, can pave a path forward. Ultimately, she believes the onus is on individuals. "I do think we all have to be kind of vigilant about how easy it is to medicalize things. How easy is it to say, 'You know what? My back hurts. I've got to go get an x-ray and see what's going on,' as opposed to, 'When was the last time I was at the gym?' or 'How heavy is my briefcase?' or 'I haven't eaten anything green in the last week.'"
Established in 1964, the Bellos lecture honors 1927 Yale School of Nursing graduate Sybil Palmer Bellos, who forged a groundbreaking nursing career, working with immigrant families in New York and holding several leadership positions in New York and Connecticut. Each year, the Bellos lecture features a remarkable individual who epitomizes Bellos' dedication to expanding the frontiers of healthcare.
Watch Dr. Bradley's final Yale lecture here.