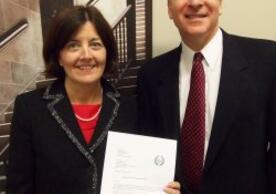 Yale School of Nursing Assistant Professor Marianne Davies, D.N.P., M.S.N., R.N., A.P.R.N., C.N.S.-B.C., A.C.N.P.-B.C., A.O.C.N.P., recently received the 2015 Dove Medical Press Video Abstract Award for the video abstract for her published paper, "New modalities of cancer treatment for NSCLC: Focus on immunotherapy."
Dove Press provides rapid, peer-reviewed, open access publications in medicine, drug treatment, risk management, basic science, outcomes research and adherence across a breadth of disease states and technologies.
Dr. Davies's video abstract was voted by both of Dove's journal editors-in-chief and the public. It received more than 4,000 views, with the paper garnering more than 11,000 views and downloads combined. Her paper reviews the new immunotherapeutic agents in development for lung cancer, and strategies for managing patients on immunotherapy.
Dr. Davies is an oncology nurse practitioner in the multidisciplinary thoracic medical oncology unit at Smilow Cancer Hospital, Yale Cancer Center. She is a co-investigator on several clinical trials investigating treatments for lung cancer with unique expertise in emerging targeted immune therapies.
As part of the award, Dr. Davies receives one free personal submission of a manuscript and a GoPro® camera, and three free manuscript submissions for YSN. Ross Ruriani, commercial director at Dove Press, presented the award to Davies at YSN (pictured right).