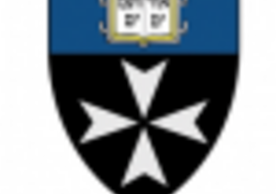 The American Cancer Society (ACS) awarded four YSN students scholarships as part of the organization's Extramural Grants program. Rane Beal '17, Victoria Ervin '16, Janelle Jones '16, and Molly Nestor '16 all received a Graduate Scholarship in Cancer Nursing Practice.
The Graduate Scholarships in Cancer Nursing Practice provides support for graduate students pursuing a master's degree in cancer nursing or doctorate of nursing practice. Awards may be for two years with a stipend of $10,000 per year.
With the assistance of the ACS scholarship, Beal plans to pursue opportunities to provide palliative care for patients with life-limiting cancer. "I want to listen to the stories of patients and create a space for them to make decisions about treatment, family communication, life, and death," he said. "I look forward to sitting at bedsides, meeting with families, and advocating day-by-day in the interest of my patients."

Beal's inspiration to become a nurse practitioner was sparked after volunteering for the No One Dies Alone program at Houston Methodist Hospital, where he provided companionship for patients at the end-of-life. He has great interest in end-of-life care and hopes to be able to expand the scope of palliative care within oncology. Prior to YSN, Beal graduated from Arizona State University and worked in an elementary school for eight years, where he served as the school librarian and taught classes for the 21st century program. 

Ervin will be working with patients with solid tumors over the next year as an FNP APRN student. "Oncology is appealing to me because you get to work with patients over a period of time and be a part of patients' care at such a vivid, difficult and important time," she stated. "I hope that my own personal experiences with cancer will help me to be a more caring and compassionate practitioner." 

After spending two years in Kenya for the U.S. Peace Corps, Ervin went on to work for the Touch Foundation in New York, which promotes medical and nursing education and health systems strengthening in Tanzania. She graduated from Harvard University School of Public Health in 2010 and returned to work in Tanzania with the Touch Foundation before coming to YSN in 2013. 

Jones is eager to explore her interests on psychosocial and population-based behaviors in minority communities, as well as on health disparities, in patients affected by breast and/or prostate cancer. "I am honored to be a recipient of the ACS scholarship and I look forward to integrating psychiatric and oncology nursing in an effort to positively impact humanity," said Jones.

During her studies at Johns Hopkins University (JHU), Jones was able to travel on nursing mission trips to Guatemala to open a clinic for the indigenous people of Pacos Tres Cruces. She also spent three months on an international clinical rotation in the ICU and ED at a JHU School of Medicine-managed hospital in Abu Dhabi, UAE. After graduating from JHU, Jones received a grant from the National Institutes of Health to conduct research on healthy aging with the University of Gothenberg, Sweden. Jones actively volunteers during her time at YSN.

Nestor looks forward to integrating palliative care into her clinical work, helping patients fight the disease process while, with equal measure, keeping symptom management and quality of life concerns at the forefront. "I am deeply honored to receive the ACS scholarship to support my education and training as an oncology nurse practitioner," she said. "Oncology nursing demands a thoughtful and high-level understanding of pathophysiology, psychosocial dimensions, and empathic communication – I am invigorated by this challenge and am excited to collaborate with patients and families to achieve greater control, satisfaction, and meaning in their cancer journeys."

Following her graduation from Bowdoin College, Nestor worked in Crohn's and colitis clinical research assisting in clinical trials and population studies at the Brigham & Women's Hospital in Boston. While at YSN, she enjoys volunteering in community health and learning about health care inequities in the New Haven community through the U.S. Health Justice pilot course with Yale nursing, medical and physician assistant students. Her particular interests are in palliative care, end-of-life conversations, and gastrointestinal cancer management and prevention.
The ACS's Extramural Grants program seeks to support innovative cancer research across a wide range of disciplines to meet critically important needs in the control of cancer.
The ACS is a nationwide, community-based voluntary health organization dedicated to eliminating cancer as a major health problem by preventing cancer, saving lives, and diminishing suffering from cancer, through research, education, advocacy, and service. Headquartered in Atlanta, Georgia, the ACS has regional and local offices through the country that support 11 geographical divisions and ensure that they have a presence in every community.