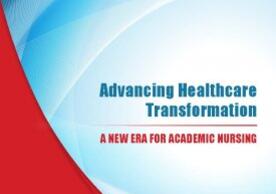 The American Association of Colleges of Nursing (AACN) and Manatt Health released a report titled Advancing Healthcare Transformation: A New Era for Academic Nursing, which addresses how baccalaureate and higher degree schools of nursing can amplify their role in improving health and health care at the local, state, and national levels. YSN Annie Goodrich Professor Margaret Grey, DrPH, RN, FAAN, served as a special advisor on the report. 
The report outlines the collaborative work needed to spark clinical innovation, align critical resources, and fortify the public's health. "This seminal report provides a framework for how academic health centers, as well as schools of nursing, can benefit from working together," said YSN Dean Ann Kurth, PhD, CNM, RN, FAAN. "As YSN begins its strategic planning process, we will look for opportunities to ensure that our partners' strategic priorities fit well with ours, all with the goal of improving patient and population health."
In February 2015, AACN commissioned Manatt to complete a national study on optimizing nursing's role in Academic Health Centers (AHCs). Three sources of data were utilized for the study, including interviews with stakeholders in AHC and non-AHC affiliated institutions, an academic nursing leadership summit, and two surveys issued to (1) deans of nursing and (2) university leadership.
The report findings indicated that nursing schools affiliated with AHCs are not well positioned as partners in healthcare transformation. Only 29% of deans and 10% of associate/assistant deans or faculty members surveyed hold a seat on the governing body of the health system. Additionally, 43% of respondents rated the integration of school of nursing faculty into clinical practice in the health system as "low."
The Manatt Report noted that AHC leaders recognize the benefit of aligning more closely with academic nursing but that insufficient resources prevent nursing schools from maximizing their contribution to the larger mission of AHCs.
"I think we all knew that the academic health center of the future needed more from and with nursing, but the Manatt group put voice to those concerns and the potential solutions, said Dr. Grey. "Only by addressing the issues raised in this important report will we truly be able to transform health care from acute care to population health, a goal we all share."
Key recommendations from the report include:
Academic nursing should be recognized as a full partner in healthcare delivery, education, and research that is integrated and funded across all professions and missions in the academic health system.
Nursing faculty should engage more deeply in clinical practice.
The pipeline into baccalaureate and graduate nursing programs should be strengthened, including an emphasis on leadership development at all levels.
Academic nursing should partner to advance new clinical models and promote accountable care.
A greater investment should be made to advance nursing research, including closer alignment with research efforts across the health professions.
Government support for academic nursing should be expanded, including more funding for nursing research and the removal of regulatory barriers impacting scope of practice.
A universal recommendation of the report is a commitment to a transformative role for schools of nursing in the evolving academic health system. "AACN recognizes that recommendations and lessons learned contained in this report will be important to the full universe of baccalaureate and higher degree nursing programs, not just those located in academic health centers," commented Dr. Juliann Sebastian, Chair of the AACN Board of Directors. "We are already hearing that some academic and clinical leaders are taking steps to align their operations with the AACN-Manatt report's recommendations, which will help to magnify nursing's impact on transforming health and health care."
The American Association of Colleges of Nursing (AACN) is the national voice for university and four-year-college education programs in nursing. Representing more than 780 member schools of nursing at public and private institutions nationwide, AACN's educational, research, governmental advocacy, data collection, publications, and other programs work to establish quality standards for bachelor's and graduate-degree nursing education, assist deans and directors to implement those standards, influence the nursing profession to improve health care, and promote public support of baccalaureate and graduate
Yale School of Nursing enjoys a national and international reputation for excellence in teaching, research, and clinical practice. One of Yale University's professional schools, YSN is a leading school of nursing in the United States, with a diverse community of scholars and clinicians with a common goal: better health for all people. More information on YSN may be found at nursing.yale.edu.