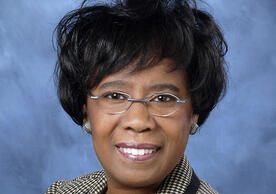 YSN's Office of Diversity and Inclusion is pleased to announce its inaugural Visiting Scholar, Bernice Coleman '83, PhD, ACNP-BC, FAHA, FAAN. Named in 2013 as one of YSN's 90 Yale Nurses, Dr. Coleman has made significant contributions to nursing throughout her impressive career. Her work has been presented nationally and internationally at conferences, including the International Society of Heart and Lung Transplantation, the American Society of Histocompatibility and Immunogenetics, and the World Conference on Organ Transplantation.
With a strong interest in ethnic death disparities following heart transplantation, Dr. Coleman investigated and uncovered genetic differences between African Americans and Caucasian Americans that are linked to the discrepancy in survival rates among the two ethnic groups. 
YSN will welcome Dr. Coleman from March 22-31, 2017. She will give a lecture open to the YSN and Yale community on Wednesday, March 29, 2017 at 1 pm.  Lunch will be provided.  Please RSVP to ysn.diversity@yale.edu by March 24, 2017.
Dr. Coleman will also provide consultations on research projects and career advice in her area of expertise to those interested in the YSN and Yale community.  To schedule a consultation, please email ysn.diversity@yale.edu. 
YSN's Office of Diversity and Inclusion Visiting Scholars Program selects scholars for their contributions to their professions, and their potential contributions to the intellectual life of the Office of Diversity and Inclusion and the greater YSN community. The program is open to individuals of any minority group, with an emphasis on the appointment of scholars who demonstrate an interest in health equity and/or social justice.  The goal is to immerse the visiting scholar in the Yale University research environment to help build the next generation of diversity scholars.