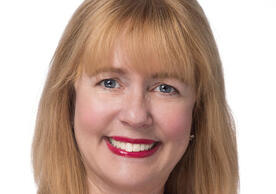 Dr. Jessica Coviello, DNP, APRN, ANP-BC, associate professor at Yale University School of Nursing, has been chosen to receive the 2018 Florence S. Wald Award by the Connecticut Nurses' Association (CNA).  She has taught at the school since 1983 and for more than 30 years, her practice has focused on cardiovascular disease prevention and management.
The Florence S. Wald Award is given for outstanding contributions to nursing practice, and recognizes achievements and innovations in nursing practice or health care delivery to a patient population that may include, but not necessarily be limited to: improved quality of care; new or innovative models of care; increased availability of care; improved access to care; potential or demonstrated impact on the prevention of illness, accidents, or other threats to health; improvement in the overall health status of a patient population(s); improvements in the quality of human life; or relief of human suffering.
Dr. Coviello will receive the award at the 112th annual convention of the CNA on Wednesday, October 10.