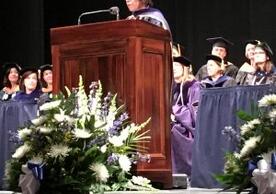 Yale School of Nursing (YSN) celebrated its 90th Commencement on Monday, May 23, 2016, at the Shubert Theater in New Haven. This year, the school awarded degrees to 75 MSN students, 12 Doctor of Nursing Practice students, three PhD students, and two post-master's students. 
This year's Commencement address was presented by Bernice Coleman, PhD, ACNP-BC, FAHA, FAAN, who spoke about "Coloring Outside of the Lines." Coleman discussed the changing healthcare landscape and how that impacts the work of advanced practice nurses, particularly the 2016 graduating class. "The provider's current worldview will shatter, and you are walking into the season of the advanced practice nurse working at the top of your license in every state!" 
She also shared the qualities she thinks are essential to leaders: "street CRED". CRED stands for credibility, respect, empathy, and determination. "As I look over this audience, I see a sea of diversity. If we use the definition of diversity as the management of difference, we all must leverage the best of our differences to better understand our environment, our clients, and ourselves," stated Coleman.
According to Coleman's CRED philosophy, YSN teaches students how to learn, providing them with an essential skillset as a "life-learner" which sustains credibility. She also emphasized the importance of being respectful toward everyone – from the top to the bottom of any organization. She encouraged students to "pursue a connection with people or populations that they need to influence," and to understand their fears and their expectations. Finally, Coleman advised the graduates to "keep your eye on the prize."
Samantha Tamulis gave this year's student address. She dedicated a moment to Meghan Sullivan, a friend and fellow YSN student who tragically passed away in 2015.
Several awards were presented at this year's ceremony, including the Annie Goodrich Excellence in Teaching Award given to Lecturer Loren Fields; the YSN Staff Recognition Award given to Media and Technology Support member Neal Greene; the Charles King Jr. Memorial Scholars Aid Prize given to family nurse practitioner student Patrick Bringardner; the Anthony DiGuida Award given to PhD candidate Karl Minges; the Milton and Anne Sidney Prize given to pediatric nurse practitioner student Athena Samaras; the Connecticut Holistic Health Associate Award given to adult gerontology acute care nurse practitioner student Tory Larsen; the Leadership in Nursing Award given to DNP student Jill Muhrer; the YSN Community Service Award given to midwifery student Ana Sofia DeBrito; and the D.A.I.S.Y. Faculty Award given to Associate Professor Linda Honan.
In addition to the aforementioned awards, two YSN students, Andrea Frantz-Iversen and Georgia Anne Arenas were recipients of the Life-Saving Award from the Yale Police Department.
A reception was held for graduates, their families, and guests at the Omni New Haven Hotel immediately following the diploma ceremony. Congratulations to the graduates and their families!