Yale's efforts to reduce and become carbon neutral by 2050 received international attention earlier this month when students, faculty, staff, and alumni participated in the Global Climate Action Summit. A gathering of world leaders, governors and mayors, CEOs and investors, NGOs, and youth and indigenous groups, the summit attracted 4,000 delegates to San Francisco Sept. 11-14. Thousands more participated in over 325 affiliate events held nationwide.
John Kerry '66, former secretary of state and distinguished fellow at Yale's Jackson Institute for Global Affairs, gave a keynote address calling on citizens to remain committed to addressing the challenges posed by climate change. Last fall, Kerry hosted the Yale Climate Conference on campus, part of the Kerry Initiative he is leading at Yale.
Read more in this YaleNews article.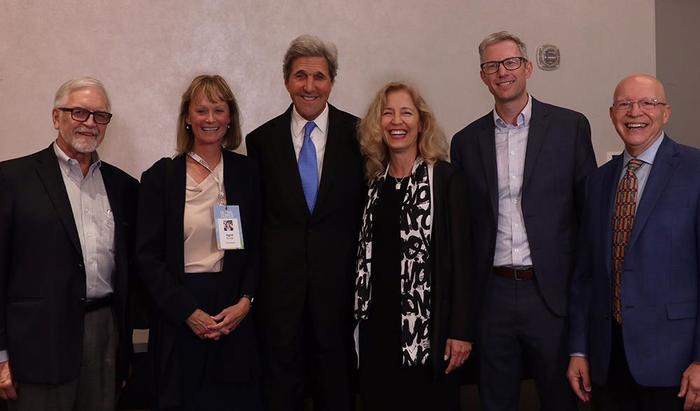 From left: Wendell Brase, associate chancellor for sustainability at the University of California-Irvine; Dean Indy Burke; John Kerry '66; Dean Ann Kurth; Georges Dyer, executive director of Intentional Endowments Network; and Anthony Cortese, co-founder of Second Nature and president of the Crane Institute of Sustainability.