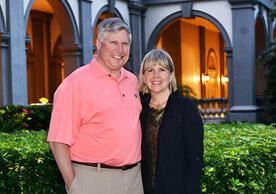 Established in 1923 as the first university-based nursing school, Yale School of Nursing (YSN) has a nearly century-long commitment to science and research. Ann Kurth '90 MSN, dean and Linda Koch Lorimer Professor of Nursing, is proud to uphold that tradition.
"Yale nurses lead the way in applying scientific advances to clinical practice," Kurth said. "One of my most exciting roles as dean is to support our faculty members who conduct research on significant health issues, while cultivating the spirit of innovation in our students."
With its seventy nursing scientists and clinicians, the YSN faculty continually break new ground in nursing science, drawing from basic, clinical, biobehavioral, translational, and community-engaged research approaches. This breadth of perspectives allows for a nuanced understanding of health—nurses explore the impacts of environmental factors, access to healthcare, genetics, educational and behavioral interventions, and more—and positions the school to bring the best ideas to bear on health system, population, and patient outcomes.
Funding innovative science
To support this work, Thomas '83 and Wendy '83 Naratil have endowed a permanent fund at YSN. The Wendy U. and Thomas C. Naratil Nursing Innovation Fund will enable one faculty member each year to undertake a cutting-edge project or pursue a new research idea. The dean will select a recipient whose work promises to have a meaningful impact on the school and in the wider world, with an eye towards pilot research, new clinical initiatives, global health projects, or creative pedagogy.
"Tom and Wendy are committed to spurring innovation in nursing," Kurth said. "At the same time, their gift provides critical faculty support, helping to attract even more outstanding scientists to YSN. I am grateful for their generous and far-sighted contribution."
Improving healthcare for all
Tom and Wendy Naratil have an abiding interest in healthcare: they are both members of the YSN Dean's Leadership Council, and in 2013 they endowed an annual award at the Yale School of Medicine to support innovation in women's health. When their daughter enrolled in nursing school at Villanova, the Naratils began to focus on the crucial role nurses play in healthcare.
"We made this gift because we saw the great difference nurses make for both their patients and the healthcare system," Wendy Naratil said. "There is tremendous potential for creative healthcare solutions to improve peoples' lives."
Leaders in health science
YSN nurses and midwives are prolific researchers. A sampling of projects shows the range and impact of their work.
Dr. Marianne Davies works with an interdisciplinary team treating patients with stage IV lung cancer at Smilow Cancer Center, developing new immunotherapies and clinical practices. Immunotherapies prompt the body to fight cancer by stimulating antibody and T-cell responses and using immune checkpoint inhibitors.
Dr. Holly Powell Kennedy shapes the global research agenda in midwifery as part of an international team that has identified and assessed research gaps worldwide in maternal and child health.
Dr. Soohyun Nam studies social networks and obesity risk behaviors among African-American women. Her interests include self-management for chronic diseases such as obesity, type 2 diabetes, and cardiovascular diseases, as well as health disparities affecting underserved adults of diverse race and ethnicity.
Dr. Julie Womack studies HIV/AIDS in an aging population, with a focus on HIV-infected women. She uses natural language processing and machine learning to explore associations between HIV infection and conditions associated with aging, including falls, heart disease, and sleep disturbance.
Dr. Linda Honan collaborates with the Schools of Engineering and of Medicine, to use innovative approaches to enhancing student skills in clinical observation and physical examination, including creating a 'beat box' device that simulates a range of pulses.
Dr. Lois Sadler and Dr. Nancy Redeker have a NIH-funded study to develop a healthy sleep program for urban families raising young children. Dr. Sadler is also principal investigator of a W.K. Kellogg Foundation-funded effort to disseminate the Minding the Baby® home visiting program that improves outcomes for vulnerable mothers and children.
Dr. Nancy Redeker directs YSN's Center for Biobehavioral Research and has an extensive NIH-funded sleep science research portfolio, engaging with colleagues at the School of Medicine including on a newly-funded NIH R01 grant
As these examples illustrate, nursing as a 'STEAM' discipline (science, technology, engineering, arts, medicine) stands ready to contribute to Yale's scientific priorities as well as its pedagogical mission. "This work, that can impact the health of populations around the globe, will be expanded by the Naratil's gift", summarizes Dr. David Vlahov, YSN's Associate Dean for Research.
This story was originally published in Eli Magazine, Yale University, August, 2018.