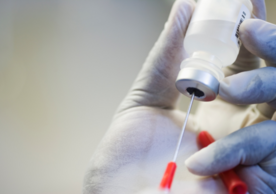 Want to stop an outbreak in its tracks? Start with trust
BY CLIFTON LEAF
January 21, 2020 6:39 PM EST
DAVOS, Switzerland—The key to building resilient health care systems around the world is rebuilding trust in health care. That was one of the fundamental points made in a fascinating panel discussion I moderated this morning on the first official day of programming here at the 50th annual meeting of the World Economic Forum.
The gaps in the global health safety net are widening in a number of areas, from recurrent shortages of essential medicines to rising human resistance to vaccines—the last of which is leading to outbreaks of infectious diseases, such as measles, that were thought to be under control.
"Vaccination is all about preventing the unseen enemy from getting to you. The same [goes] with antibiotics—we take them for granted because we think that we're going to live forever, " said Dr. Jayasree Iyer, executive director of the Access to Medicine Foundation, a Netherlands–based nonprofit that works with (and prods) pharmaceutical companies to do more to bring essential medicines to those living in low- and middle-income countries. But to make the delivery of such medicines effective and far-reaching, she said, "you need to build that sense of trust. And that's the biggest drawback with the work that we do. You know, the pharmaceutical industry is just not trusted by the community."
Iyer continued. "So when the pharmaceutical industry brings out a new product, whether it's a vaccine or a new medicine, people hesitate to take it on board," she told the audience. "Trust starts in a simple way. Even in the face of antimicrobial resistance, I mean, do you really need to promote your antibiotics? Do you really need to spend all the money on marketing, which puts more pressure on price for health systems?"
"I think it's that simple," Iyer said. "Trust comes when you stop doing all the bad things."
Governments in many parts of the world, too, have largely failed in their responsibility to educate people about why these medicines are important, Iyer added. For governments to succeed in that task, they must be trusted—and confidence in them is waning, she pointed out.
That sad lesson, indeed, is reinforced by the widely followed Edelman Trust Barometer, of which the 2020 edition was released two days ago, on the cusp of the WEF meeting. The general public simply does not trust leaders to deal with society's major challenges, the report found—but officials in government face the most distrust, with just four in 10 people confident that their country's leaders are up to the job. "In a majority of markets, less than half of the mass population trust their institutions to do what is right," the survey's authors noted.
Between 2019 and 2020, trust also fell across each of the 15 business sectors that Edelman tracks, with the biggest drops in consumer confidence happening with regard to both tech and entertainment companies. Sixty-nine percent of people around the globe still trust health care companies, which is down a point from last year.
So who do we trust to solve the world's woes? Scientists and "people in my local community," the communications company found.
Which is one reason why Iyer's organization has been so focused on developing trust at the community level, she said on stage this morning at the WEF Congress Center. Dr. Ann Kurth, dean of the Yale University School of Nursing and a professor of epidemiology at Yale's School of Public Health, agreed that community involvement is essential. That's why she is encouraging nurses—and there are some 4 million registered nurses in the U.S. alone—to run for public office.
"We're going to do the first candidate school for nurses because, again, we're a trusted profession," she said. "I don't care if you're right wing, left wing, centrist—just run for something locally and get engage in policymaking and leverage. Whatever trust you do have, [use it] to move towards better health policy."

- Ann Kurth, Dean
For more coverage of the 2020 World Economic Forum annual meeting in Davos, click here.
Orginial Article: http://bit.ly/FortuneHealthDavos