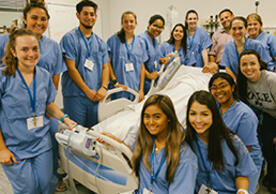 This summer, YSN hosted several groups of high school students from the National Student Leadership Council (NSLC) who spent a week at the school taking classes, and attending simulation events, in order to explore nursing as a possible career path.
The National Student Leadership Conference on Nursing was initiated in the summer of 2016 through a mutual desire between NSLC, Yale Conferences & Events, and the faculty at the Yale School of Nursing to expand NSLC's summer offerings at Yale. The NSLC first began implementing its programs at Yale during the summer of 2014. The goal is to provide high school students interested in a specific field with helpful academic and leadership tools that they can utilize to help them decide if they would like to pursue a career in the program of their choosing.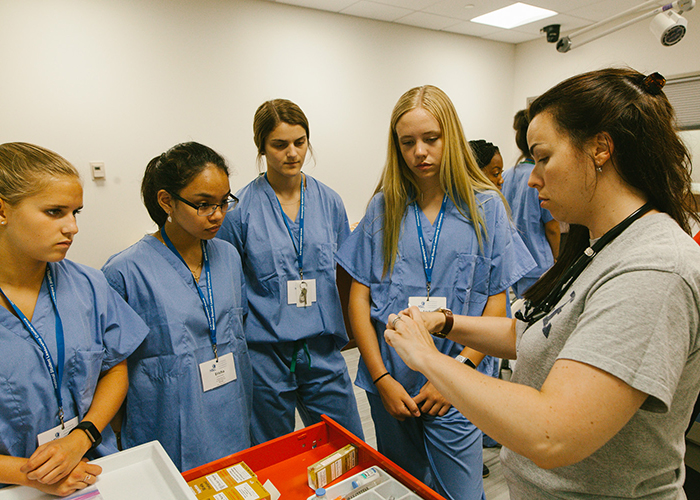 Amy Bronick, a 2nd year FNP student at YSN who will graduate in 2019, is the current nursing program director and assistant site director of the programs at YSN. As a former student of the NSLC, she commented, "I am honored to have had the opportunity to help organize and implement the nursing program at YSN. Since Yale is such a prestigious university, the administration of the NSLC is privileged to be able to implement the nursing program at a desirable location that fosters such wonderful academic growth and achievement."
The mission of the NSLC is to provide a safe and supportive environment which encourages students to explore their academic and career interests while developing leadership skills essential for their success. With this initiative in mind, and through close partnership with YSN, the NSLC hopes to continue to emulate YSN's mission of "better health for all people" by preparing high school students interested in the nursing profession with information specific to the roles and responsibilities of nurses as well as providing leadership activities that will promote self-discovery and empower our students to develop as leaders in the field of nursing.