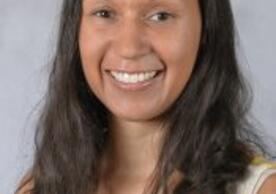 Incoming Yale University School of Nursing Dean Ann Kurth has established an Office of Diversity and Inclusion at the school and has appointed Dr. Jacquelyn Taylor, Ph.D., P.N.P.-B.C., R.N., F.A.H.A., F.A.A.N. as assistant dean to lead this effort. The assistant dean role will strengthen YSN's academic enterprise, improve institutional structures and practices, and enhance representations of diversity in the community. 
"Our teaching, research, and practice – indeed our entire YSN community – is strengthened by diversity at all levels," said Dean Kurth. "The appointment of Dr. Taylor as the inaugural assistant dean, is a boon for our school as well as for the broader university."
The goal is clear: Dean Kurth is striving to cultivate an atmosphere of inclusion at YSN. She, along with the school's leadership, want to support full representation and engagement among YSN students, faculty, and staff, to foster a space where a diversity of ideas, values, and perspectives are welcome and respected.  
In a message to the Yale University community, President Peter Salovey stated, "Educating our community about race, ethnicity, diversity, and inclusion begins with the university's leadership." He called upon the university vice presidents, deans, provosts, and other members of the administration to enhance institutional structures and practices.
Among other initiatives, President Salovey recently asked the Committee on Public Art to hold an open session at which campus members can present ideas for how the community might better convey and celebrate the university's diversity and history. "We can more accurately reflect the vibrancy of our university community," he said.
A faculty-student-staff team will support Assistant Dean Taylor's responsibilities, particularly while she is on sabbatical during spring 2016. Dr. Taylor is currently in the second year of a $3.4 million grant from the National Institute of Nursing Research investigating the combined association of genomic, epigenomic, and psychological environmental factors on blood pressure among African American mothers and young children.
"It is truly an honor to be selected to serve YSN as the inaugural Assistant Dean of Diversity and Inclusion," stated Taylor. "This is an exciting time at YSN, and we are all engaged in taking these important steps for big changes toward a more diverse and inclusive environment. We have a dynamic action plan to begin these changes at YSN, and I am energized to lead the charge that will help our school to enact and live our mission of 'better health for all people." 
Associate Professor Heather Reynolds has been appointed as the YSN coordinator for minority students, a new position created by President Salovey for the Graduate and Professional Schools. She will help lead YSN's efforts to enhance a culture of diversity and inclusiveness at YSN, including increasing the diversity of our faculty, staff, and students.