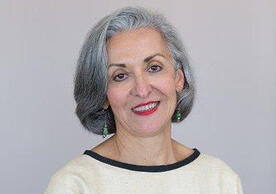 Carmen J. Portillo, RN, PhD, FAAN, began her position as Yale School of Nursing's new executive deputy dean on July 1. Dr. Portillo comes to Yale from The University of California San Francisco (UCSF) School of Nursing where she was a professor and chairperson of the Community Health Systems Department.
With expertise in HIV/AIDS and nearly 25 years of outstanding leadership managing UCFS's HIV/AIDS minor in nursing, Dr. Portillo also led the International Center for HIV/AIDS Research and Clinical Training in Nursing. She was the principal investigator of a multiyear HRSA-funded training of advanced practice nurses for HIV clinical management.
Dr. Portillo says three key elements attracted her to her new role at YSN. "I met a lot of the school's faculty and was excited. I thought, 'I would like working with this group of faculty.' YSN faculty are making it happen in education, research, and practice by providing exceptional education and experience for advanced practice students, conducting basic and applied research both domestically and globally, and looking at ways to improve student and faculty diversity," she says. "After meeting with students and other stakeholders from campus and the community, I was thrilled. Students had great questions, and faculty from main campus were willing to partner and collaborate with YSN whether it was about faculty development in educational pedagogy, educational development for students, or research collaborations. My third attraction was YSN's mission and vision and values statement coupled with working with Dean Kurth."
In addition to Portillo's research interest in HIV/AIDS-related medical and social issues, her other areas of interest encompass women's health, symptom management, quality of life, health systems, health disparities in vulnerable and high-risk populations, and international capacity development. As an advocate for Hispanic health issues and a leader in expanding opportunities for Hispanic nurses, Portillo helped found the National Association of Ethnic Minority Nurse Associations, Inc., which represents five ethnic minority nurse associations. She has been instrumental in expanding opportunities nationally for Hispanic
nurses in four-year degree and graduate programs. And other schools of nursing frequently tap her expertise in developing recruitment and retention strategies for minority nurses.
Widely known in the nursing sciences as the recipient of many national and international awards and honors, Dr. Portillo received the Dr. Martin Luther King Award from UCSF, was named a Fulbright Senior Specialist, and was recently honored by Sigma Theta Tau for excellence in nursing leadership. A highly published author, she has also served as a reviewer, advisor, and editor for many prominent journals.