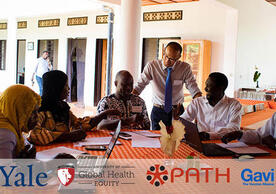 "This is an unprecedented opportunity," said Erika Linnander, director of the Yale Global Health Initiative (GHLI), during her opening remarks at the recent launch in Kigali, Rwanda of a new immunization program. "I see such an exceptionally diverse group here today to help support this program — nurses, managers, policymakers, government officials, development partners, physicians, and educators. This coming together in support of improved management and leadership is fundamental to the achievement of global health targets."
GHLI joined the Rwanda-based University of Global Health Equity (UGHE), PATH, and Gavi, the Vaccine Alliance to strengthen management of national immunization programs around the world. The Expanded Program on Immunization Leadership and Management Program (EPI LAMP) is a training course to improve the managerial capacity of governments to support Gavi's mission to ensure every child is protected with life-saving vaccines. "New vaccines are coming, and with that comes new complexities, but we are up to the challenge," continued Linnander who is principal investigator for EPI LAMP.
"I am inspired by the vision and the bar being set with this program," said Ann Kurth, dean of the Yale School of Nursing, who conveyed a message of encouragement from Yale President Salovey at the program's launch on May 7. "We can have the technology, but we cannot do this without the human hands to deliver vaccines. The importance of workforce cannot be overstated."
Read more in the full story from YaleNews.