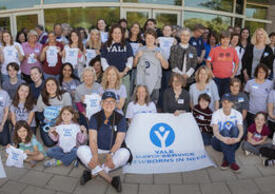 ---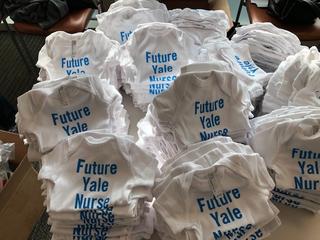 During the second Saturday in May, 75 Yale School of Nursing (YSN) alumni, staff, faculty, and friends gathered on campus to pack hundreds of bags for Newborns in Need. The volunteers carefully tucked diapers, wipes, blankets, body wash, hats, socks, and onesies into each bag. The final care package also included a board book in English or Spanish and a handwritten note to the parents.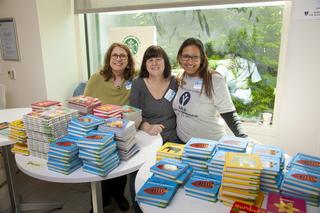 "I get such a great feeling from helping out," said volunteer Dismayra Martinez with the Yale Latino Working Group. "And I love that it's the Saturday before Mother's Day."
Tina Burke '76 MSN started Newborns in Need as a pilot program in Colorado many years ago, and it has been YSN's Yale Day of Service project for three years. Burke passed away in 2015, after previously retiring from a nursing and midwife career that spanned four decades. The donated equipment helps new mothers post-delivery at Yale New Haven Hospital's St. Raphael Campus, Neonatal Intensive Care Unit, and Pediatric Primary Care Clinic. Most of the mothers are either on Medicaid or are eligible for the program.
When asked why she has participated in this effort for multiple years, table captain Sondra Cruver said the vulnerable population resonated with her. "I want to continue to give back to the community, and to women who need a head start."
The event was co-chaired by YSNAA Board President Danielle Morgan '00 MSN, CNS, Family FMHNP, APRN-BC and Board Secretary Brenda Penner '76 MSN. "General Penner," as she was known throughout the day, happily oversaw distribution and logistics, always knew where to find something or someone, and successfully marshalled her troops to stuff more than 375 care packages. Penner beat the previous year's total by more than 100 bags.
"Thank you for making this so joyful," Susan Lennon '85 MPPM, Chair of YaleWomen, said of the atmosphere Penner helped create. "This is Yale."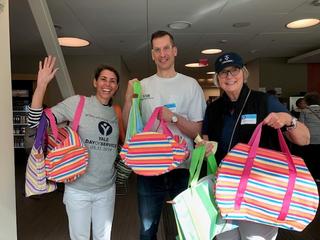 Yale College graduate and Yale parent Dr. Elizabeth Chabner Thompson '89 connected with Penner about the project and was inspired to go beyond showing up on a Saturday morning. "I realized we could contribute not just in manpower, but also in resources," Thompson said. She donated colorfully striped totes and post-partum bras for the new moms on the day and will continue to make donations to YNHH through Masthead, her company.
Thompson wasn't the only volunteer to offer a unique commitment: two alums literally made their donations. Judy Flanagan '73 MSN organized her local sewing group in Biloxi, Mississippi to contribute handmade baby blankets, and Laura Burr '96 MSN set her needles to work on mini cardigans and blankets in soft pastel colors. "I love doing baby stuff," she said. "And I enjoy coming back to Yale."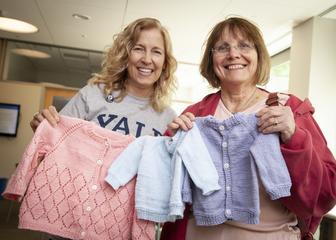 In addition to YSN, this event was cosponsored by YaleWomen CT, the Yale Working Women's Network, the Yale Child Study Center, the Yale Latino Working Group, the Feury Image Group, and the Greenwich Yale Club. The Yale Department of Pediatrics donated $400 in supplies as well as 558 packages of diapers and 900 packages of wipes, and Burke's sister also made a generous donation.