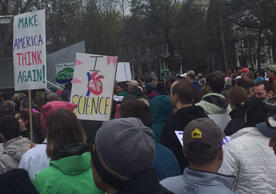 As a Professor at Yale School of Nursing (YSN) and an NIH-funded scientist, I was delighted to join in the New Haven March for Science this past weekend. This was a superb opportunity to celebrate the many benefits of science to virtually all aspects of life in the U.S. and throughout the world. We were unified in advocating for continued strong governmental support for scientific advances regarding health care, technology, the environment, transportation, and many other fields that contribute to health, productivity, quality of life, and many economic benefits.
Scientific advancements are critical to the health and wellbeing of all members of society, and professional nurses play key roles in promoting healthy lifestyles, preventing disease, supporting families through transitions such as childbearing, aging, and dying, and providing health care to people with acute and chronic conditions. Professional nurses are at the forefront of advances in the science of health and health care, clinical practice, health care leadership and administration, public policy, and public health and well qualified (and hold) many critical leadership positions in these areas.
The appointment this week of Rear Admiral Sylvia Trent-Adams as Acting Surgeon General of the United States is an excellent example of the leadership of professional nurses.  As one of the first nurses appointed to this role, former Deputy Surgeon General, and Chief Nurse Officer of the United States Public Health Service (USPHS), Trent Adams is responsible for assuring that Americans receive the best scientific evidence on improving health and preventing illness and injury. She has a significant track record in addressing health care disparities among poor and underserved communities, and I have no doubt that she will continue to advocate for this important issue and many others throughout her tenure in this role.
Yale nurses have contributed to our nation's health for more than 90 years. Our faculty include internationally-recognized scientists and leaders addressing global health, maternal-child health, self-management of chronic conditions, management of symptoms, palliative care, and others. Our focus includes healthy people and those with chronic conditions, such as cancer, diabetes, heart disease, HIV-infection, and others. We build on the strong tradition of YSN pathfinders. For example, Dr. Ada Sue Hinshaw ('63) was the first permanent leader at the National Institute of Nursing Research of the National Institutes of Health (NIH), and Dr. Rhetaugh Dumas ('61) was the first nurse director of the National Institute of Mental Health of the NIH. Dr. Linda Schwartz ('84) served as Assistant Secretary for Policy and Planning for the Department of Veterans Affairs and was the Commissioner for Veterans Affairs in CT, and Florence Schorske Wald ('41) brought the first hospice movement to the U.S. from England, established the first hospice unit in the U.S. – now the Connecticut Hospice.  Dr. Margaret Flinter ('80) is the Senior Vice President and Clinical Director of the Community Health Center, Inc. a state-wide organization of primary care centers, school based health centers, and shelters across Connecticut committed to the idea that "Health care is a right, not a privilege." She established the Weitzman Center for Research in Innovation in Community Health and Primary Care that has a national reach. These examples demonstrate the commitment of Yale nurses to the science of health and leadership in assuring access to scientifically-based health care throughout Connecticut and the US. There are many more examples of our contributions, and some Yale nurses are only just beginning their careers.
As a nurse, I bring my leadership and scientific expertise to improve the strong scientific basis for health care and continued improvements to the nation's health through scientific evidence. This is only possible through ample funding and collaboration. The March for Science was an important, but early, milestone in these continuing efforts.
Nancy S. Redeker, PhD, RN, FAHA, FAAN
Beatrice Renfield Term Professor of Nursing
Yale School of Nursing
April 26, 2017